Why You Need a Game Room Cabinet Bed
You work hard for a living and you should play even harder when you have time to spend at home. If you have a game room, home theater or entertainment room, then you are on the right track. But perhaps there is something missing from your game room, something that will make your down time even more enjoyable. What we are referring to is a game room cabinet bed that truly makes the space more user friendly. Here's how.
A Cabinet Bed Goes Anywhere
Because a game room cabinet bed takes up so little space in the room – about 10 square feet or so, depending on the model and mattress size – they are easy to tuck into a corner, place beneath a window, add to a wall of television sets or function as a sofa "table." But it does more than just sit there and look pretty – your game room cabinet bed can be used to hold a television set up to 50 inches on its top, while the spacious storage drawer underneath is the perfect place to stow video games, DVDs, game controllers, extra computer equipment and more. And some models even come with a USB port and power outlet along the side of the cabinet to make plugging into tech that much easier.
Add a Sleepover Bed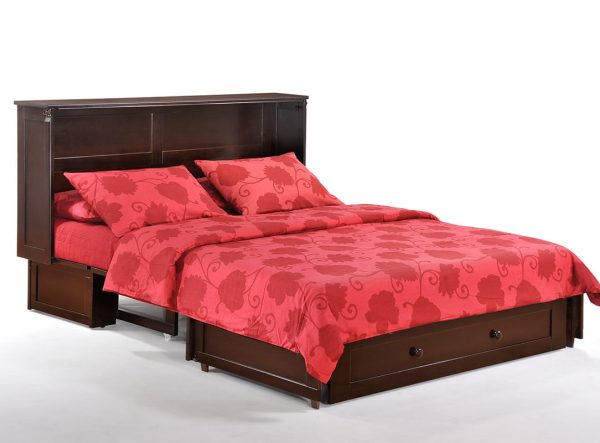 If you have kids, chances are they use your game room or entertainment room more than other members of the family. And if they often host sleepovers for friends, no doubt they end up sprawled all over couches and chairs at the end of the night. Stop the clutter by adding a game room cabinet bed. In seconds, the mattress pulls down from the front of the cabinet to provide a great night's sleep for anyone, up to 500 pounds in weight.
Then again, if you have occasional overnight guests but not a dedicated guestroom, a cabinet bed in your game room or home theatre gives them a space of their own with a premium, tri-fold gel memory foam mattress that feels like heaven to sleep on.
Subdivide One Large Room
Perhaps your game room serves several different functions for the various types of hobbies your family enjoys – a card table in front of the fireplace, video gaming in front of the TV, a corner for reading books or a place to get comfy while watching movies. The ideal solution for creating dedicated zones is to incorporate the right furnishings. Recliners are great for watching TV, a card table and chairs works well for puzzles or poker games, a large sofa for gamers. A game room cabinet bed can be used as a TV stand with comfy seating in front of it. It's a simple fix to move the chairs back when someone is ready to go to sleep. Or, place it in the middle of the room with artwork atop the cabinet to delineate two or more areas. It's a great place to add an extra screen for multi-player games, too. There are plenty of possibilities.
With a game room cabinet bed, you can get more functionality and more life out of your favorite place in the house to unwind and relax.