Cabinet Beds Are Perfect for Minimalist Design
Does clutter make you crazy? Does dusting drive you daft? If a collection of items out in the open and lots of accessories makes you feel overwhelmed, you are not alone and you may just be the perfect candidate for minimalism throughout your home. In this article we examine the principles behind this home décor movement and connect how cabinet beds are perfect for minimalist design.
Unmasking Minimalism
Minimalist design largely owes its start to the Bauhaus movement of Germany in the 1920s or so. Think of the Bauhaus font and you can easily see how this clean and minimal sans serif font is minimalistic. Along the way, principles from Japanese home styles and Scandinavian furnishings helped shape the movement into what it is in more modern terms.
At its core, minimalist design involves furnishing a home only with pieces that have a purpose. The lines of furniture should be clean and simple, without excessive ornamentation. Bare walls and clutter-free surfaces, along with a neutral color scheme, are most representative of the style's core concepts. But far from boring, minimalist design is both functional and elegant, if done properly.
Why Minimalist Design?
Many people, especially those with high-stress jobs and cluttered lives, prefer being in simple surroundings. A lack of visible possessions and things allows the resident to live "quietly", without the noise of overly stylized rooms filled with gewgaws and things that constantly grab the attention.
Decorating in Minimalist Style
While it may seem quite simple to sweep everything off your countertops and credenzas into closets, making your home look as if you achieved minimalist style is more difficult than you might first imagine. The key elements to doing it right without making your home look spare and cold include neutral or varying hues of a single color, space-saving design and lots of storage pieces.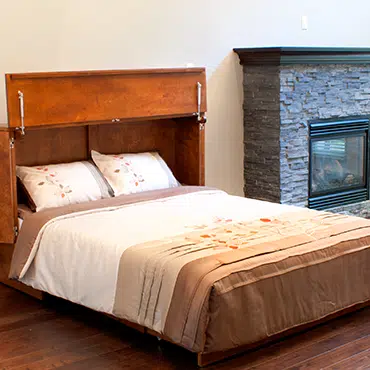 Cabinet beds are perfect for minimalist design because they have clean lines without any fussiness about their style. They are purposeful, as they add an extra bed for occasional overnight guests. And they also provide extra storage via the roomy drawer along the bottom of the cabinet.
Cabinet Beds Offer Smart Organization
In a room that is used for more than one purpose, cabinet beds are perfect for minimalist design.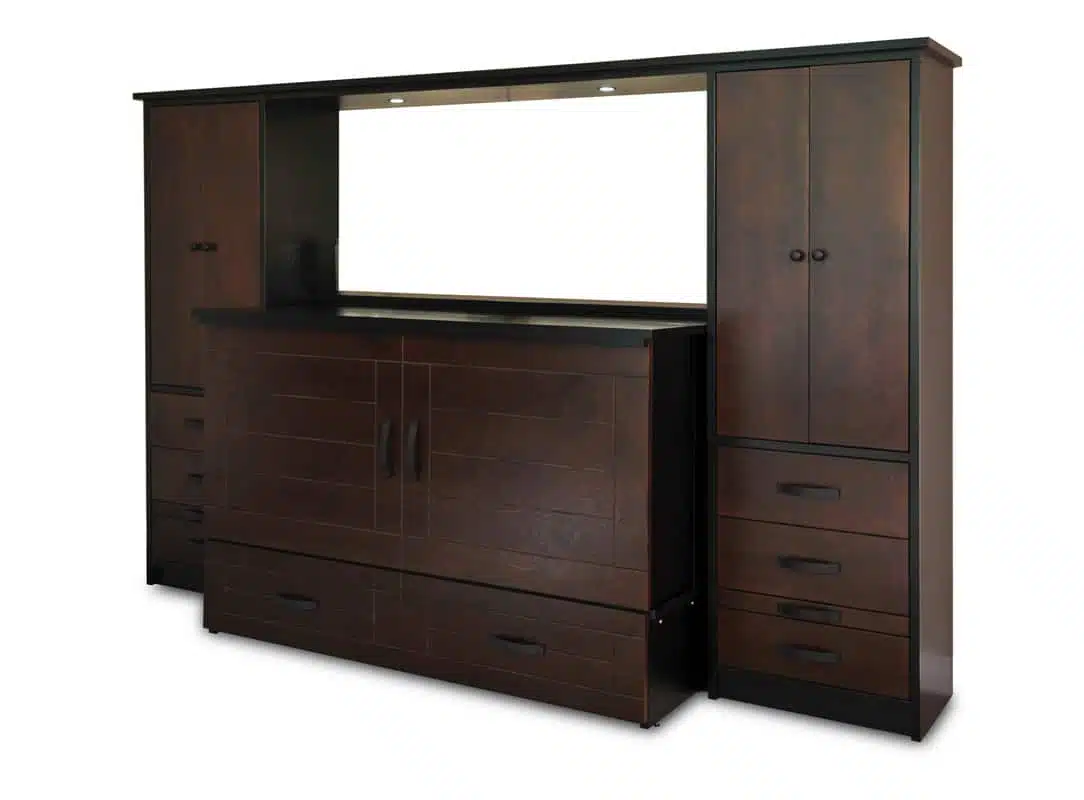 Look at this Metro Wall Unit and Cabinet Bed. Everything is encased in a sleek frame with puck lights across the top of the side pier bridge. The side pier wall unit is full of drawers and a wardrobe behind which to store all manner of extra items. This is a piece of furniture sure to keep everything in your home office, guest bedroom, playroom or den in its proper place and tucked away from view.
Functional and Appropriately Sized
Cabinet beds are perfect for minimalist design because they are the right size for any room. In fact, their small footprint of less than 10 square feet makes it an ideal addition to a child's bedroom, a corner of the living room, the end of a hallway – the possibilities are nearly endless. Going to minimalist design does not mean you need to sacrifice comfort or functionality; it merely suggests that streamlined pieces should all have a place and a purpose.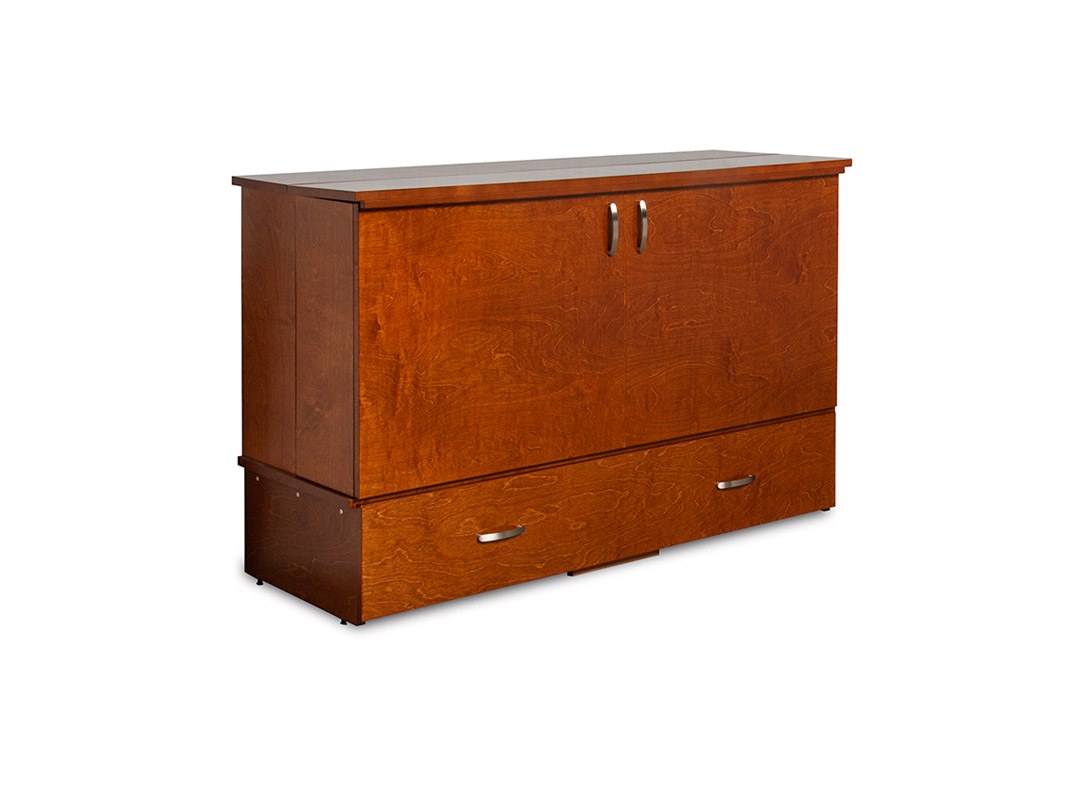 This Park Avenue Cabinet Bed exemplifies the style of minimalism, with its flat sides and surfaces. The cabinet pulls can be changed out for something sleeker, if you desire, or the front handles can be completely eliminated.
Less is more when it comes to minimalism. These and other cabinet beds are perfect for minimalist design because they check all the boxes of being the right size, providing functional storage and incorporating clean lines.