Cabinet Beds Fix Common Guest Bedroom Nightmares
You might have found the perfect house, but does it have the perfect guest bedroom? It may be a perfectly acceptable room, but perhaps something is just not quite right or the configuration just doesn't work as well as it should for someone spending the night. Now is the time to change any shortcomings in your guest room, especially right ahead of the holidays. Here are three common guest bedroom nightmares that can easily be fixed thanks to the installation of a cabinet bed.
Problem: Inadequate lighting
Solution: Add a cabinet bed with lights
You don't really expect your guests to spend the night in a dark cave, do you? Don't let them fumble for light switches and squint to see the book they are reading before bed. Make things easier by adding a cabinet bed to the room to solve guest bedroom nightmares .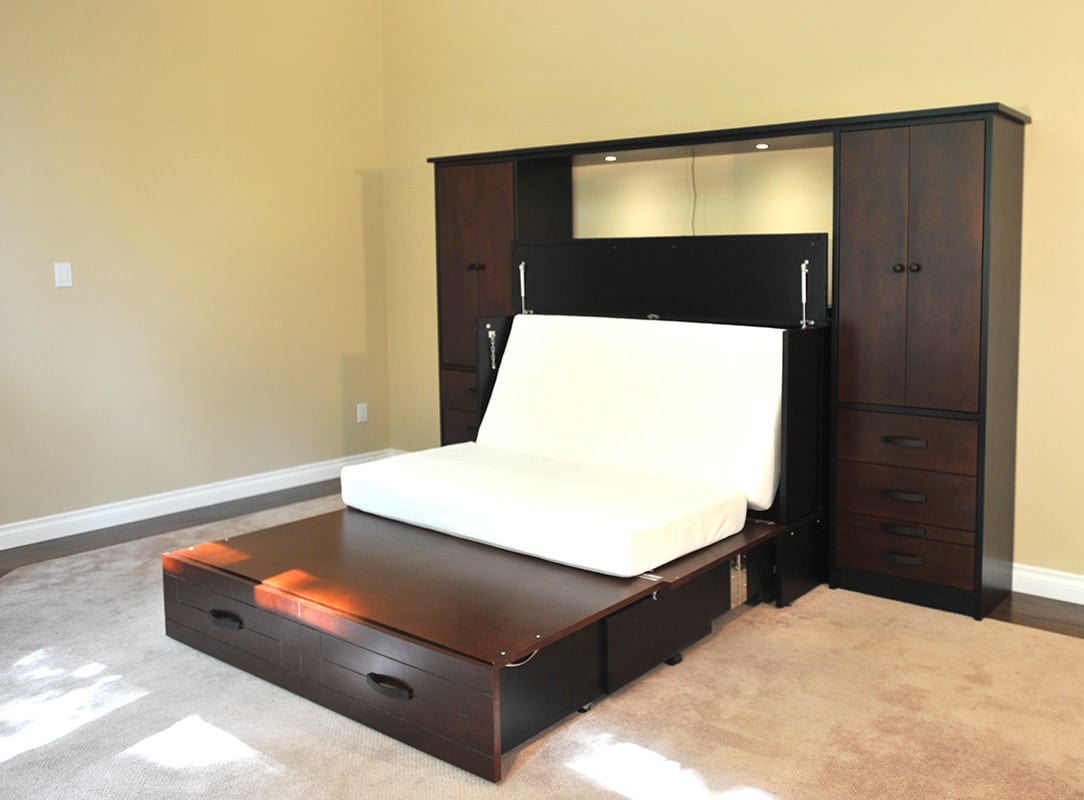 We recommend the Metro Wall Unit and Cabinet Bed. This beauty is so functional! The bed is, of course, super compact but also super comfortable when the mattress is pulled out and down over the supporting storage drawer along the bottom of the cabinet. But the matching finish wall unit is what really sets this cabinet apart. You can configure the wall unit with your choice of bookshelves, open shelves, cabinets or wardrobes on either side. The top bridge contains a pair of LED puck lights that provides a great reading or task light when in bed.
Problem: Lack of power outlets
Solution: Cabinet beds with built-in outlets and ports
In today's world, we all travel with lots of electronic devices. But if your spare room lacks enough outlets, it can be a real annoyance to your guests.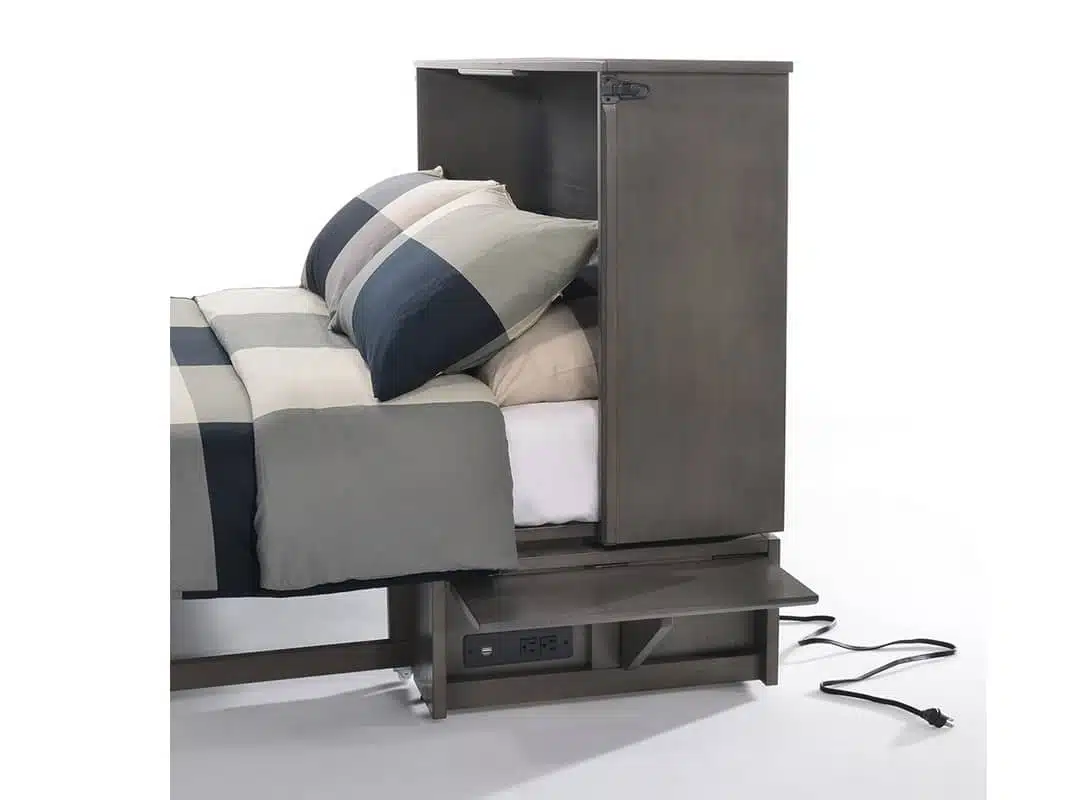 We suggest installing a Daisy, Clover or Sagebrush cabinet bed. These queen-size cabinet beds include a handy USB port/power outlet located at the bottom of the cabinet. When the mattress is pulled out for sleeping, that outlet and port is right at the head of the bed, making it very convenient for your guests to charge and/or plug in their devices.
Problem: No place for a nightstand
Solution: Add a cabinet bed with built-in nightstand
There are few things more annoying for an overnight guest in your home than not having access to a surface next to the bed where they can put personal belongings. Luckily, there is an easy fix for these guest bedroom nightmares and it only takes up about 10 square feet of floor space.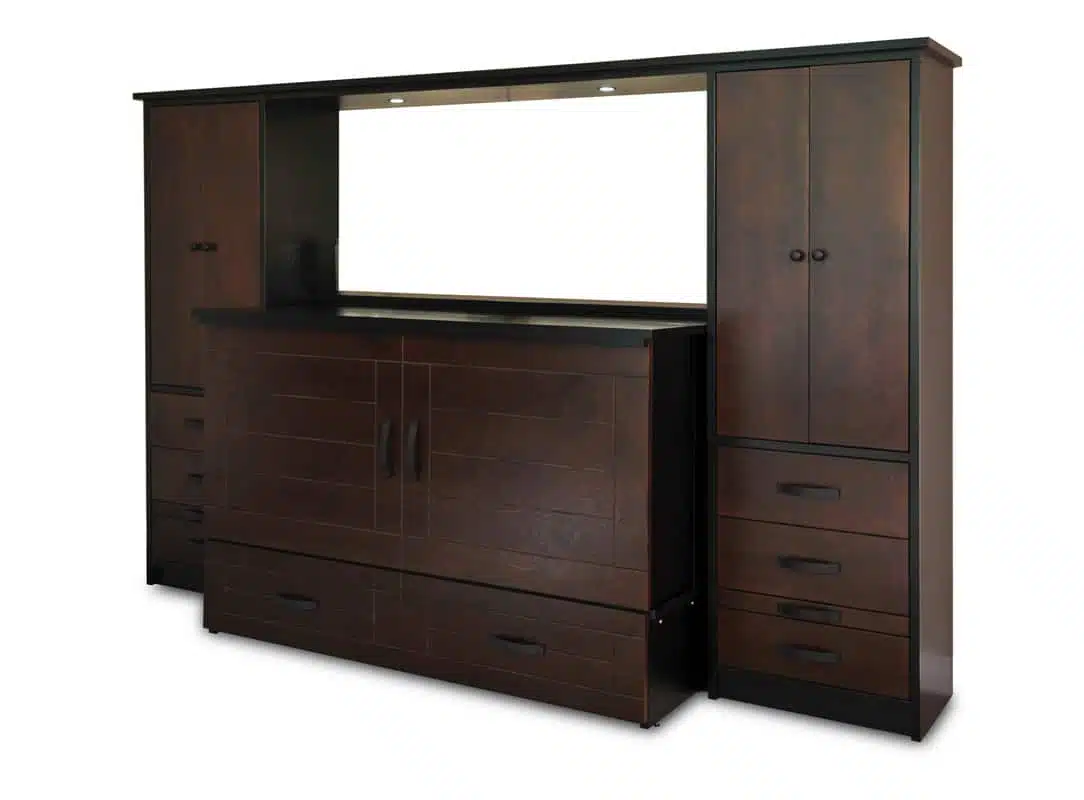 As we mentioned previously, the Metro Wall Unit and Cabinet Bed is an ideal choice not only because it contains built-in lights and storage, but because it includes a handy little pull out table in the wall unit itself. It is just the right size for a glass of water, an alarm clock and a phone.
Problem: Not enough storage space
Solution: A cabinet bed with storage drawer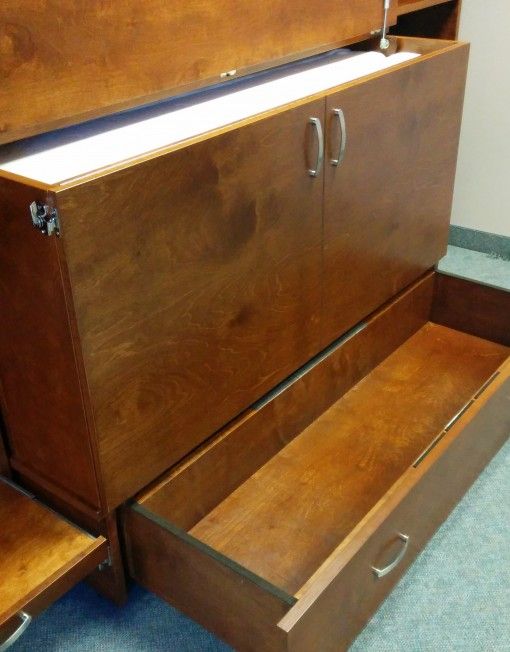 Of course you want the guest bedroom to look neat and tidy, but that can be hard to accomplish when the room serves double or even triple duty.
Once again, a cabinet bed to the rescue! Although these fantastic, solid hardwood beds are compact, they pack a lot of storage space. It all starts with the drawer along the bottom of the cabinet. It is 59 inches wide – the largest in the industry – and deep enough for lots of items. In addition to the storage drawer, the top of the cabinet is rated to hold a television with screen of up to 60 inches.
Don't let another guest stay in your home until you fix the lighting, power, storage and nightstand issues. It's easy when you add a cabinet bed to fix guest bedroom nightmares.