Creative Ideas for Your Spare Bedroom
Have you recently had a child move out of the house to attend college or get married? Perhaps you are finally getting around to renovating your home and make the space work best for you. Whatever the case, if you have a spare bedroom why not take the time to renovate it now and enjoy it tomorrow? Here are just a few suggestions for making over your spare bedroom with the help of our favorite furnishing, a custom Murphy wall bed system.
Craft an Arts & Crafts Room
Are you one of those people who find inspiration in everyday items? If you are constantly on the lookout for a new creative project to paint, sew, knit, photograph, draw or scrapbook, it just makes sense to turn your spare bedroom into a place where you can craft your next work of art.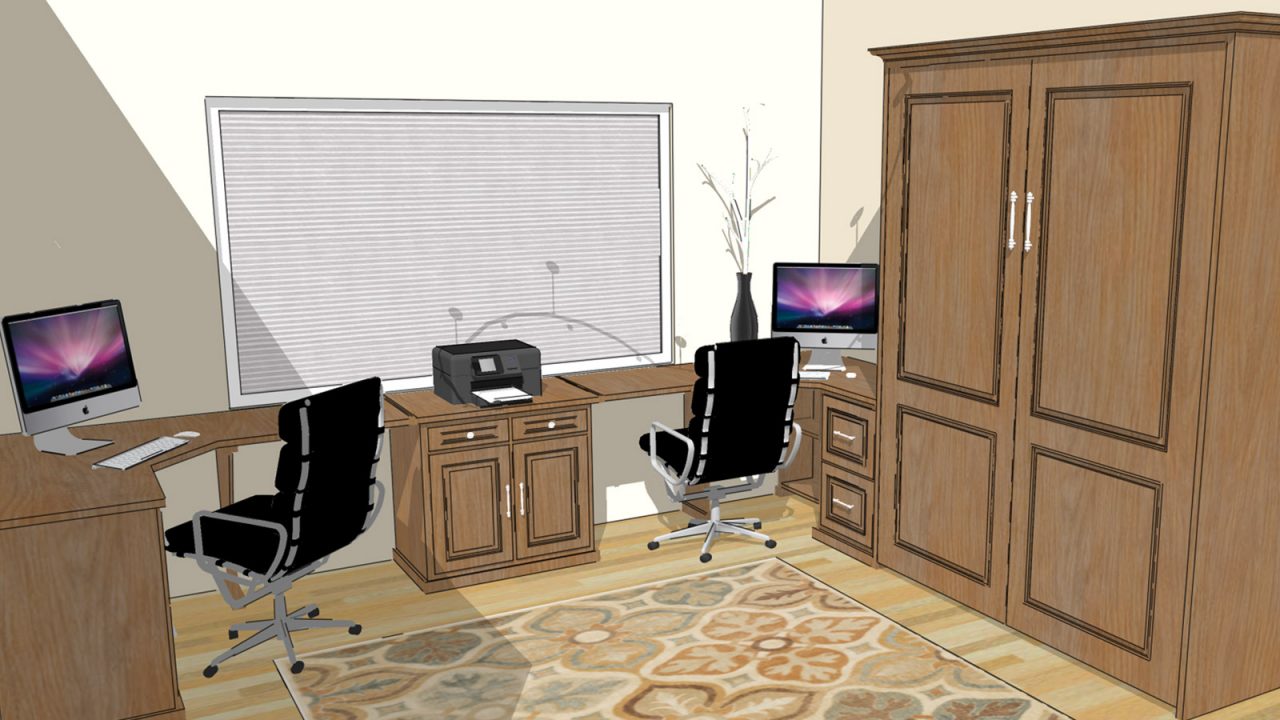 The best concept to keep in mind is "a place for everything and everything in its place." Crafters usually accumulate a lot of stuff. But an arts and crafts room can easily look cluttered without adequate storage space. In order to both provide a comfy bed for overnight guests and corral all your clutter, add an Empress wall bed. This model has plenty of options that allow you to have all the space you need. Add a single side pier or double piers to either side of this handsome Murphy wall bed and configure them as needed with a wardrobe, storage cabinets or display shelves. Add lighting or power outlets where it makes sense. A multipurpose table on the front of the cabinet is another option or go with a custom Murphy wall bed system that includes the table or desk with matching millwork on one or both sides of the unit.
Make Lovely Music in a Music Room
Perhaps your creative streak runs more toward the audible. If making lovely music or listening to tunes makes you happy, then it just makes sense to turn your spare bedroom into a music room with the help of a custom Murphy wall bed system.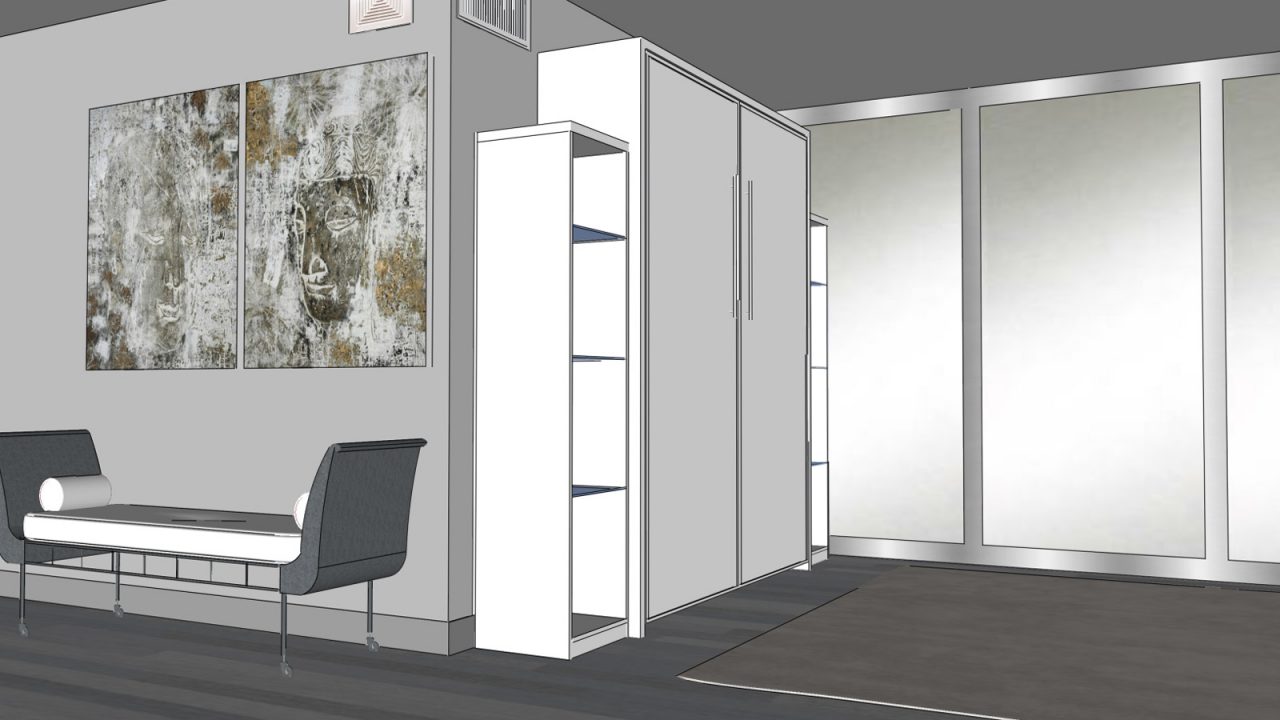 In a music room, a custom Murphy wall bed system with a wardrobe and sofa would be the best choice. Take a look at this Encore wall bed with a built-in closet. The closet is an ideal place to store musical instruments and stands. On the other side pier, include drawers for sheet music and perhaps a cabinet with doors to hide speakers when not in use. You can add a sofa or sectional to a wall bed system with an Encore Murphy bed so you have a relaxing place to play your instruments or plug in a pair of headphones for easy listening. Remember that you can also opt to add USB ports or power outlets wherever needed.
Ready a Reading Room
If your passion runs more toward reading and collecting books, then a reading room is the perfect use for your spare bedroom.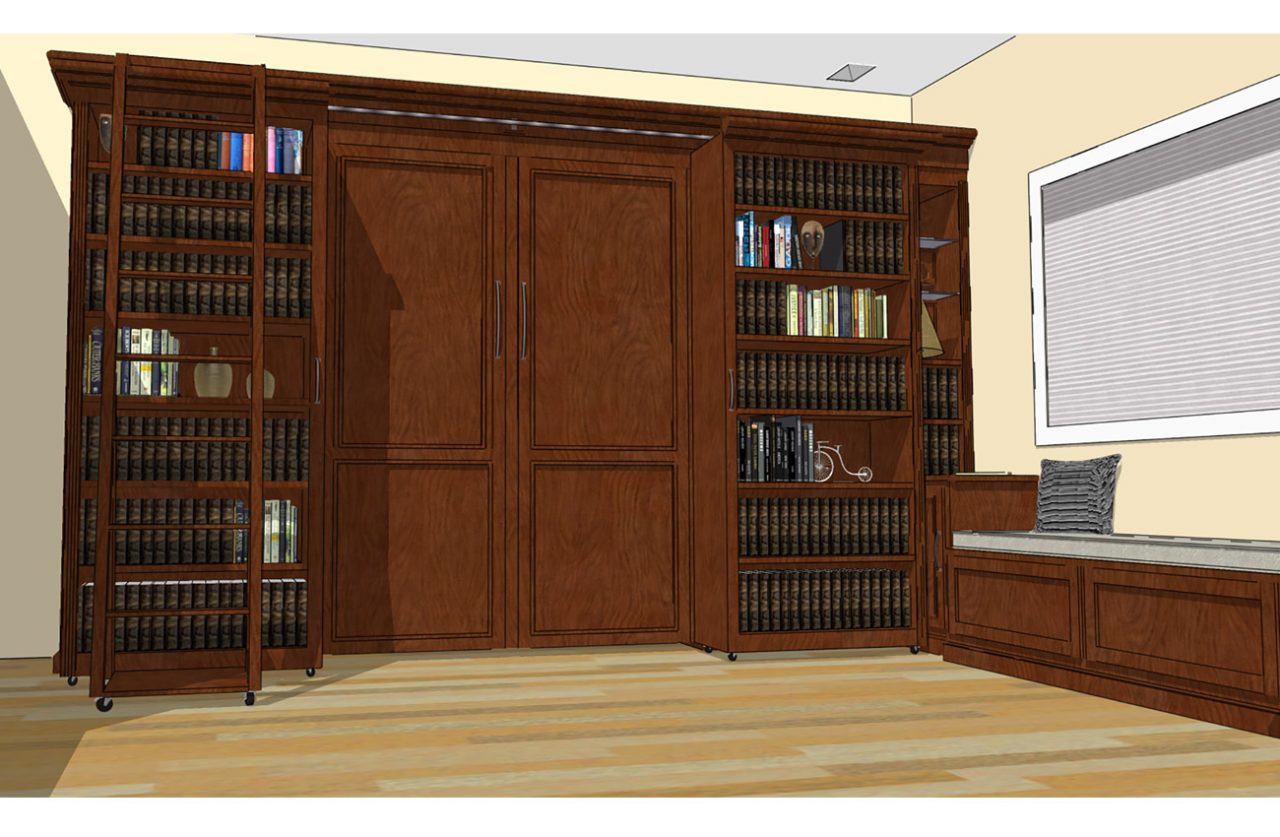 Bibliophiles take note that a Library wall bed is the perfect piece of furniture. This gorgeously designed Murphy wall bed hides a mattress in the size of your choice behind a pair of bookshelves that slide to either side. The ample number of shelves easily holds most, if not all, of your book collection sorted according to author, genre or even spine color. If you truly want a reading room to die for, ask us to fashion a custom Murphy wall bed system which includes book shelves across the top of the unit and a matching ladder to reach them. A window seat on one side of your custom wall bed system provides a cozy place to curl up with a good book.
Don't allow your spare bedroom to languish with a traditional bed that takes up all the space. Use a custom Murphy wall bed system to turn your spare room into a place where you can enjoy whatever you desire.