Horizontal or Vertical Wall Bed, It's Your Choice
Did you know, most of our wall beds are available in vertical and horizontal configurations? That means you have greater flexibility when it comes to finding a wall bed for any of your home, for any purpose and any amount of space. Let's open the possibilities even further.
What's the Difference?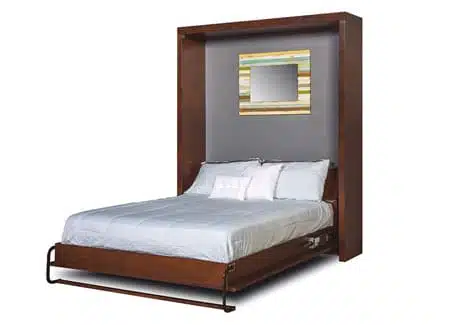 Let's clear up what might be causing you a bit of confusion: Murphy beds are wall beds. And wall beds are Murphy beds. They are all the same in that they consist of a cabinet fastened securely to the wall which holds a bed. The bed uses an open/close mechanism to bring it down for sleeping, then tuck it away in the cabinet again to increase the space and functionality of any room in your home.
One thing to note is that at Murphy Beds of San Diego, all of our wall beds use a very reliable and safe open-close mechanism, which comes with a lifetime warranty. Don't settle for less with a cheaper model as it may be a safety issue.
Now, the layout of the cabinet… Almost all of our wall beds can be configured with a solid hardwood cabinet that attaches to the wall vertically, with a taller length and smaller width, or horizontally, with a shorter vertical span. That's important, depending on how and where you want to use your wall bed.
Horizontal Wall Beds
With a horizontal wall bed, the premium gel memory foam mattress is folded into thirds so that it fits neatly within the cabinet.
A horizontal wall bed is a great choice when you have a bit more wall space and you wish to add a wider component to your wall bed system, such as a desk that runs the length of it.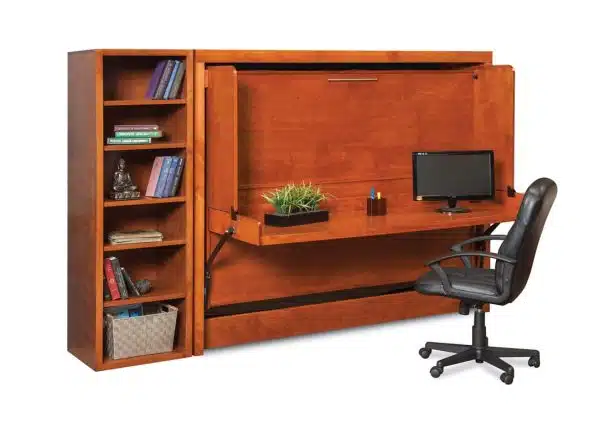 This is shown in the illustration above, of the Mirage H Desk Wall Bed. You can see that this gives you a wider work surface and the ability to hang a piece of art above the bed. The Mirage wall bed (which is also available as a vertical wall bed) shown here also has a side bookshelf added for extra storage space.
Vertical Wall Beds
A vertical wall bed is what most people envision when they think "Murphy bed." This is the classic style that is most often shown in movies and commercials. Because the cabinet is as tall as the mattress' length, the bed doesn't fold but simply rises up into the cabinet.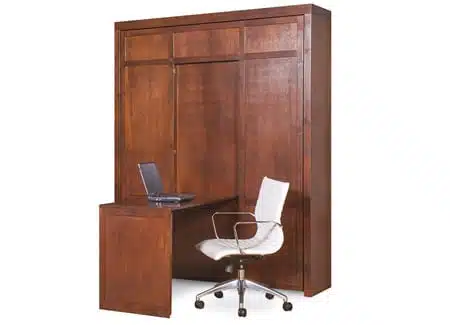 A vertical wall bed takes up less space on the floor, but more on the wall. You can still add a desk, as shown in the image of the Cromwell Desk Wall Bed above (which is also available as a horizontal wall bed). And because it takes up a narrower space against the wall, it's often easier to fit a pair of side piers alongside. Those side piers can either be bookshelves, storage behind doors, display cases with lights, wardrobes or nearly anything else you can imagine.
Choose One, or Both
Whether you choose a horizontal wall bed or vertical wall bed for your home – or perhaps one of each – you can rest assured that you are getting the highest quality available. And our expert installation team will ensure that your new addition is securely fastened so that your beautiful new wall bed becomes part of your home, for now and forever.