What Makes Wall Bed Design Magical?
At Murphy Beds of San Diego, we had a customer leave us a lovely review that stated we added "magic and sophistication" to her wall bed design idea. We thought that was an excellent way to describe the product she custom ordered from us. It was the perfect wall bed to fit her space and included side piers in a size and configuration that accommodated all her needs. Here are several more reasons why we consider our wall beds magical furnishings for any room in any size home.
Wall Bed Design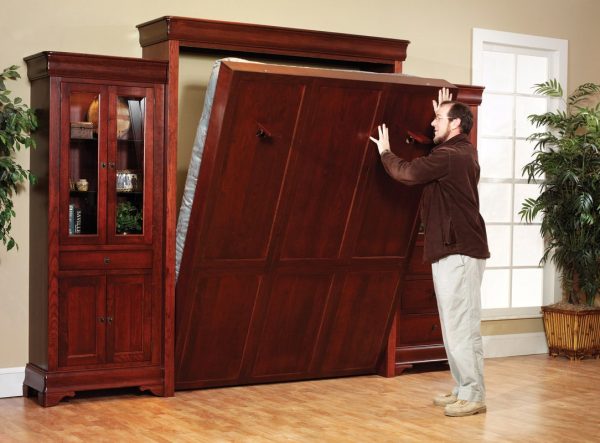 When you think about it, although the design for a Murphy bed's functionality was created nearly a hundred years ago, it has well stood the test of time. The mechanics of the bed opening and closing still use the same principles, but modern technology has updated the mechanism to make it safer and easier to operate. The opening/closing mechanism on the wall beds we offer actually comes with a lifetime warranty.
It was an ingenious concept then and it's even more so now, thanks to modern innovation. Doesn't the thought of adding a full-size bed to a room with a very small footprint sound magical to you?
Custom Magic
As referenced above, any wall bed can become even more magical by adding functionality. Why allow the Murphy bed to simply look nice against a wall? How about adding side piers, a desk or any number of custom options that make your wall bed twice or three times as functional?
We're talking about adding things like a closet, a pet bed, bookshelves, cabinets, storage drawers or everything necessary for a well-equipped home office. We can also configure a wall bed system that includes lighting, power and USB outlets, and custom hardware options. We can even help you fill an entire room with millwork on every wall that matches your Murphy bed. That ability to turn a wall bed into a center for exercise equipment, homework, hobbies, crafting, collecting, filing, storing and organizing makes it a magical piece of furniture, indeed.
Expand Your Space
What if you could simply replace the traditional bed in your extra room and instantly double or triple the available space? Sure, you want to be able to accommodate the occasional overnight guest in comfort and style, but what about all those other days of the years? There's no need to compromise functionality in your only extra room. With most wall beds taking up only a few square feet of floor space in the closed position, it's easy to imagine how your room gets magically bigger due to this one change.
Add a Little Magic to Your Home
We may be biased, but we believe that wall bed design, custom or not, are magical pieces of furniture. They perform so many functions with a small footprint that they are perfect for any home, no matter how challenged for space. And with "the sky's the limit" options for custom wall bed design, what you imagine is what we create.