Maximize Space With a Guestroom Hidden Cabinet Bed
Could you use some extra space in your guestroom? While it may not be practical to tear down walls and make the room bigger, you can easily find extra square footage by incorporating a hidden bed. This allows you to use that room as a home office, hobby room or exercise room most of the time, while still providing a comfy bed on which overnight guests can sleep – a far better solution than giving them a sofa sleeper. Here are the ways a guestroom hidden cabinet bed can transform one of the hardest working, multi-functional rooms in your house.
Get Your Guests Out of the Living Room
For many of us, the only way we can accommodate overnight guests is on the couch in the living room. They may have to bunk right there on the cushions or, if they are lucky, go to be on a pulled-out sofa sleeper. How inconvenient is that? Not only do you and any other friends and family members have to give up using the living room during your guest's stay, your guest has no privacy.
A Guestroom Hidden Cabinet Bed to the Resuce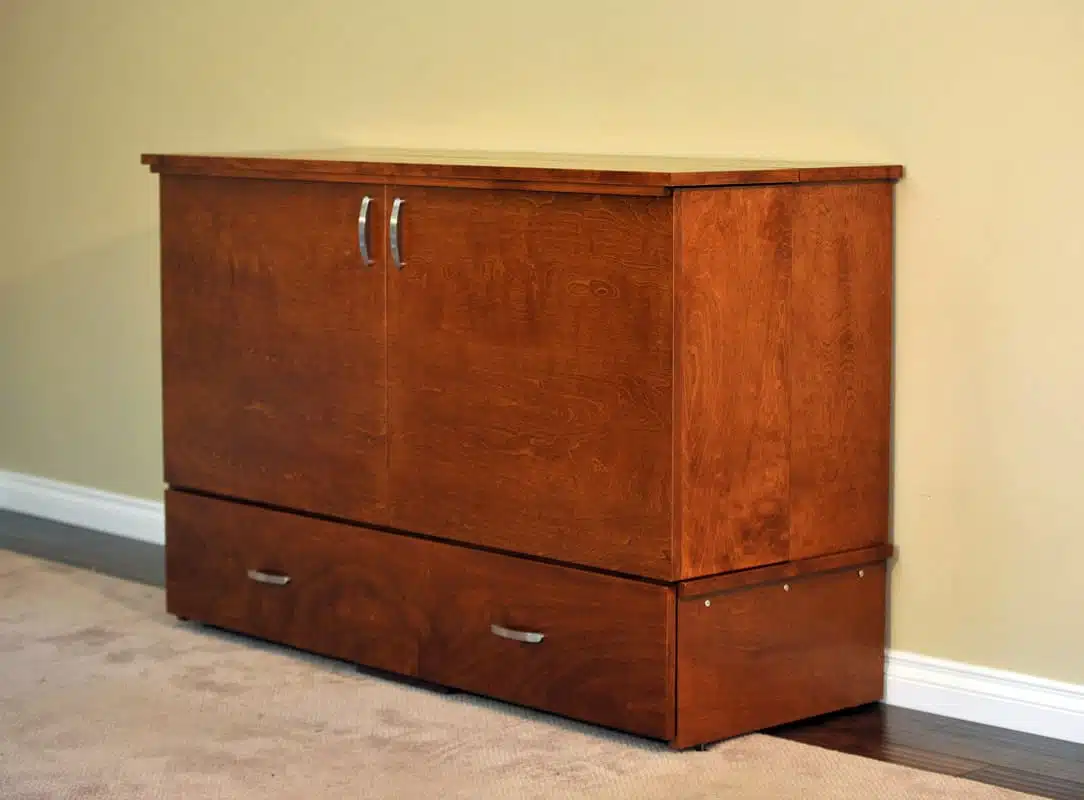 A much better solution is adding a guestroom hidden cabinet bed to your multi-functional room. Your guest gets privacy for the night and you get full use of the guestroom the rest of the time. In fact, an ingenious cabinet bed will provide more than some extra square footage. Our solid hardwood cabinet beds are handsome and come with handy features you are sure to love. They take up a mere 10 square feet of space in the closed position and do more than just pull out into a comfy mattress for sleeping.
Features of a Hidden Bed in Your Guestroom
What other features of a cabinet bed will you love?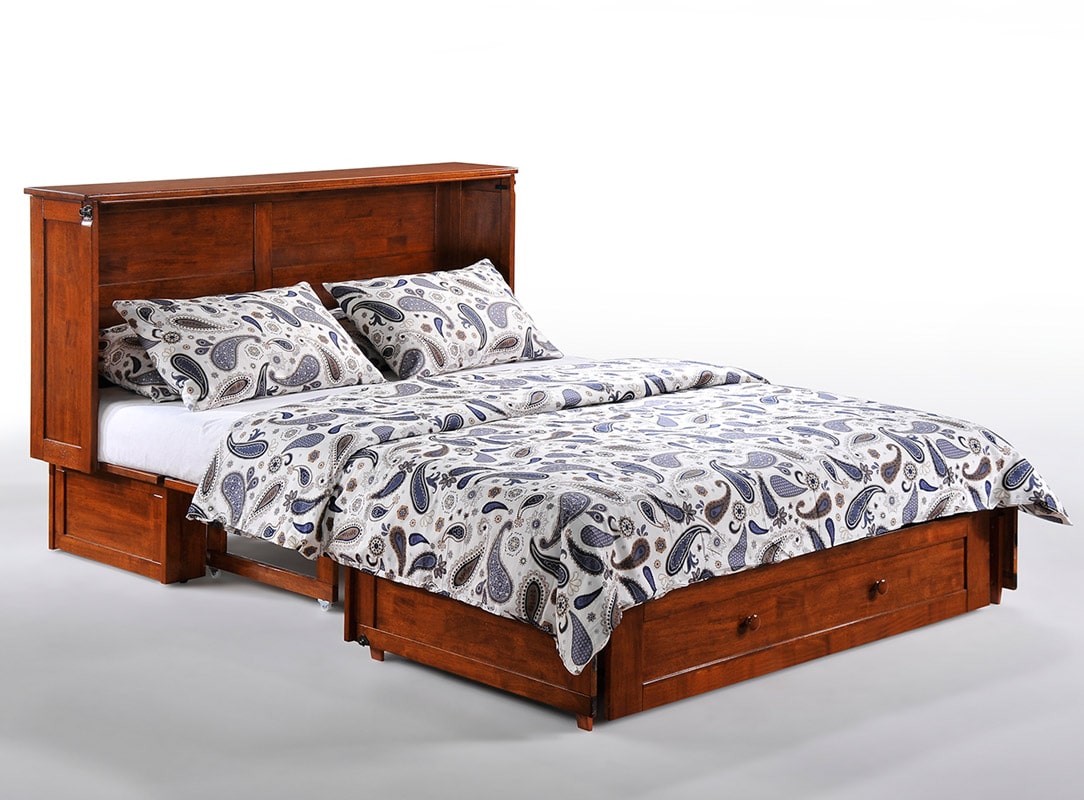 For one, the handsome cabinets are made from solid hardwood and crafted to be quite durable and sturdy. The top shelf of the cabinet is rated to hold a television set with screen size up to 60 inches. Even if you don't wish to place a TV there, you could easily use the shelf of your hidden bed for a row of books, photos or collectibles.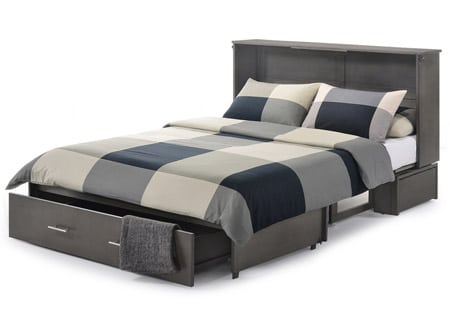 Here's another nifty feature of a hidden bed in your guestroom: a roomy storage drawer. The drawer easily pulls out from the bottom of the cabinet. It is the ideal place to stow extra bed linens, out-of-season clothing, exercise equipment (yoga mat, towels, resistance bands, etc.), holiday decorations or just about anything else that needs a home in your home.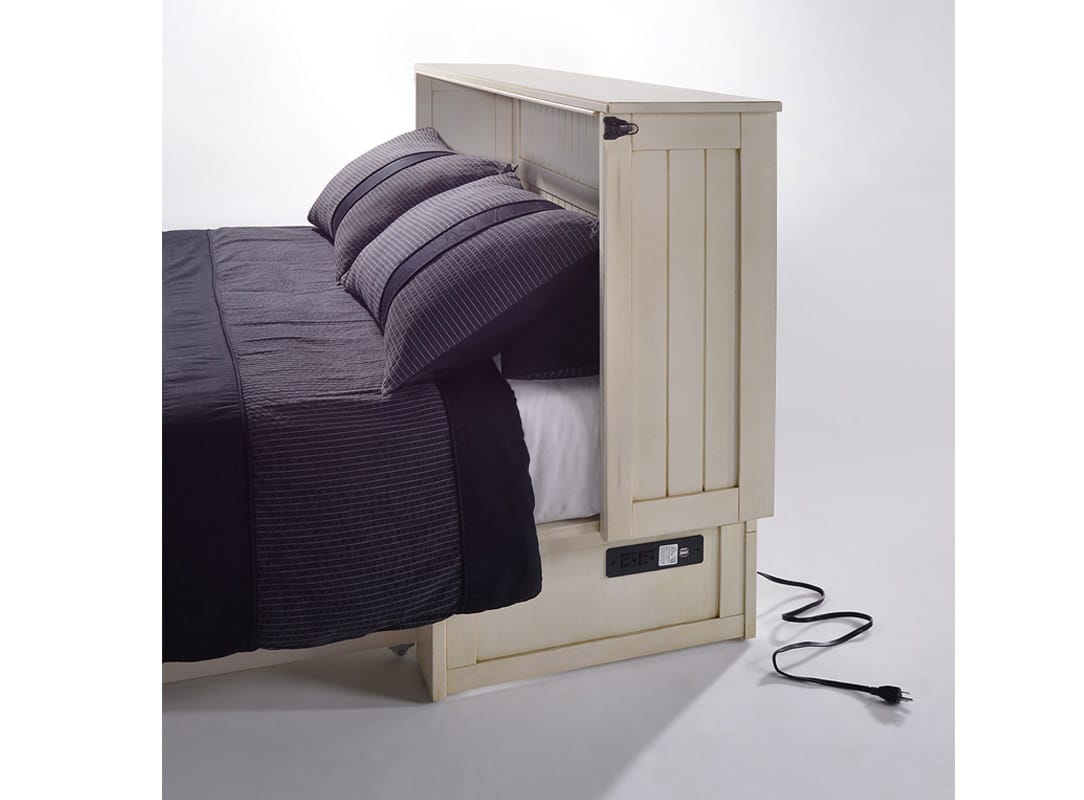 And yet another feature of cabinet beds you are sure to love are the USB/power outlets that are available in some models. The Sagebrush, Daisy and Clover cabinet beds all include this feature, which makes it easy and convenient for overnight guests to charge and use their electronic devices. You may find those ports handy, as well, when using the guestroom as a home office.
A guestroom hidden cabinet bed is a clever and handsome way to ensure that this room can be used all year long for whatever tickles your fancy – then quickly transforms into a private and comfortable sleeping place for overnight guests.