Now You See It; Now You Don't: All Wood Cabinet Bed
In a perfect world, we wouldn't need to see constant evidence of the fact that our spare room contains a bed for the occasional overnight visitor. We'd probably want it to look neat and tidy at all times while maintaining its primary image as a home office, exercise studio, hobby room, crafting space, dressing room or whatever else your extra room functions as. And that's where the beauty of a Houdini-like all wood cabinet bed comes into play.
About All Wood Cabinet Beds
While you are probably aware of what a traditional Murphy foldup bed looks like, you may not be quite so familiar with a cabinet bed. There are a few key differences that determine which type of bed to call by which name.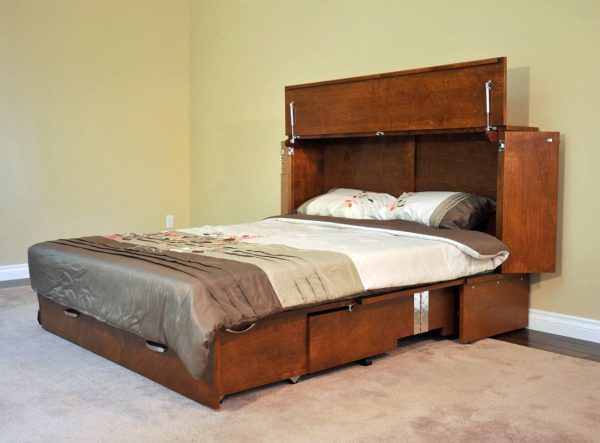 Cabinet beds are freestanding units while Murphy beds incorporate a frame that attaches to the wall. Between the two, a Murphy bed is the more permanent fixture (although you can still unscrew it from the wall and take it with you).
Orientation is another difference between the two types of foldaway beds. Murphy beds almost always pull down from their frames in one solid piece. The mattress in a cabinet bed, however, is usually folded into thirds, in order to accommodate a queen-sized mattress. Most cabinet beds can be configured as either a horizontal or vertical cabinet.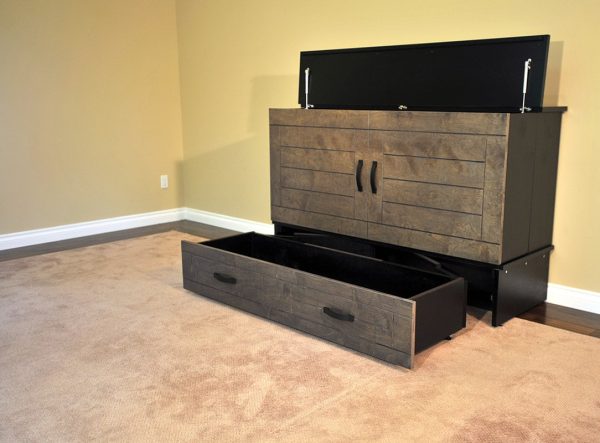 And then there's that nifty storage area. Almost every one of our cabinet beds feature a roomy, under-cabinet storage drawer. That's not something you would normally see in a Murphy bed. You can also add a wall unit, such as the one shown here with the Metro Cabinet Bed.
Why Choose an All Wood Cabinet Bed?
Cabinet beds are the ideal choice for smaller spaces. They take up very little floor space, yet provide a premium, queen-sized memory foam and cool gel mattress for maximum sleeping comfort. That's an excellent way to ensure your extra room utilizes maximum space for its primary function while still equipped to handle overnight guests.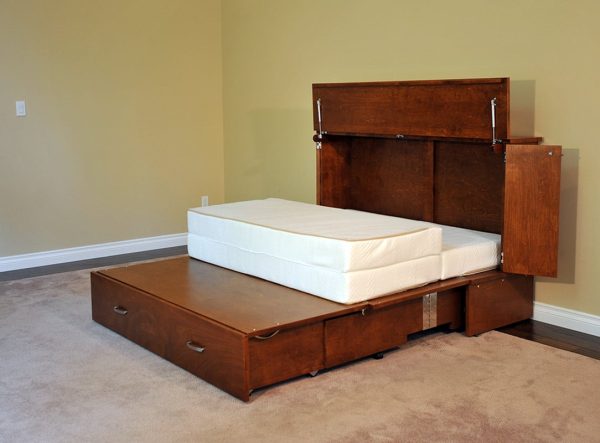 The "now you see it, now you don't" feature of our all-wood construction cabinet beds makes them super easy to pull out and fold up. Check out the video on our Park Avenue Cabinet Bed to see just how simply, yet reliably, it operates. Even someone with limited mobility is likely to be able to handle the operation of a cabinet bed.
Cabinet beds are easy on the eye, too. Their classically styled, hardwood cabinets blend into nearly any type of décor and add a handsome touch to your extra room. Choose from a variety of finishes so your new all wood cabinet bed looks right at home with any color scheme.
Quality and Style All in One Handy Package
Our all wood cabinet beds are made with superior construction and sustainable, all hardwood design. They incorporate sturdy open/close mechanisms and can even support a full-size television set on top of the cabinet. You simply can't go wrong when you add an all wood cabinet bed, such as the Metro Cabinet Bed, to your extra room.