You Put a Bed Where? Space Saving Cabinet Bed Solutions
Chances are you need some extra space in your home from time to time. But you don't necessarily need to devote an entire room to the comfort of occasional overnight guests. When you only host guests a few days out of the year, a space saving cabinet bed is the answer.
Why a Cabinet Bed over a Murphy Bed?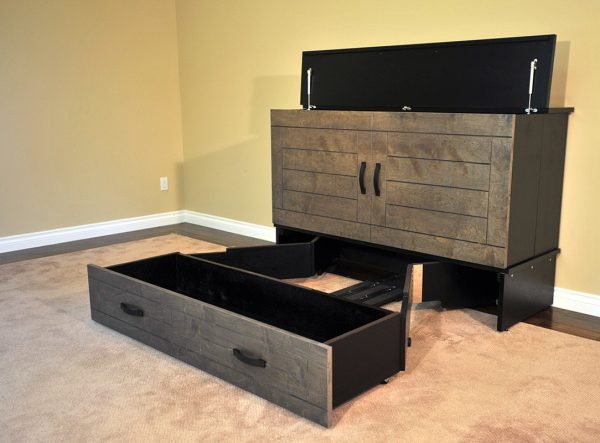 When it comes to limited space, the smallest footprint is the best. And that's where a cabinet bed is usually the best choice over a traditional Murphy bed. A Murphy bed is anchored to the wall and often includes side piers for storage, shelving, display and more. The space saving cabinet bed, which is freestanding and easy to install, is configured as a horizontal cabinet that features an under-bed storage drawer, 500-pound capacity and enough room to place a TV set on top. The popular, handsomely designed Metro Cabinet Bed shown here, take up only 12 square feet in the closed position. That makes it the ideal option for stowing in any small space – even if you don't have a dedicated guestroom.
Where could you fit a cabinet bed in your home? Let's look at some unique options.
In a Nook or Cranny
Even if your home is an apartment or condo, it's likely you have a few nooks or crannies which don't serve any particular purpose. These are the ideal spots to consider placing a cabinet bed, which allows for a bit of storage and display most of the time, but easily converts to a sleeping surface in just about 30 seconds.
What kind of spots are we talking about? How about the closet underneath your stairs – or the wall below the risers (if you don't have a closet there)? This is a small space which typically isn't very useful.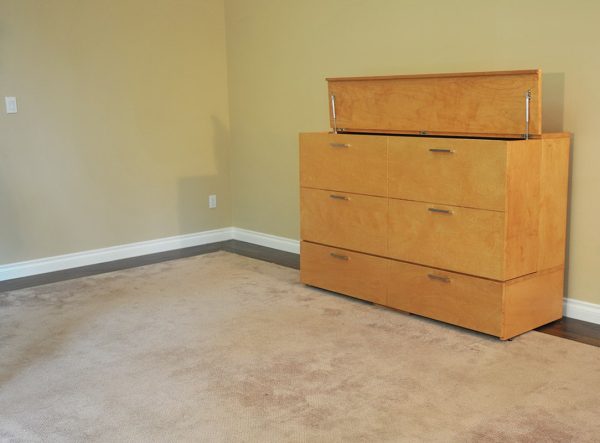 Then there's a hallway – another area that generally has no purpose. By adding a space saving cabinet bed, it now has a distinct purpose every day while waiting for an overnight guest to transform into a comfy bed, complete with premium gel memory foam mattress. Just look at this Denva Cabinet Bed's design, which is a lovely addition to any type of décor – and the all-hardwood cabinet is available finished in your choice of a dozen different color options.
Here's a few more out-of-the-box ideas:
Loft
Basement
Arizona room/enclosed porch
Add Privacy
Just because the bed for your overnight guests is hiding in plain sight doesn't mean you can't add a bit of privacy. One of the easiest ways is to keep a folding room divider handy. These are fairly easy to make as a DIY project, and you can paint or wallpaper the panels to match your room. Or, opt for a ready-made screen that you can fold up and stow out of sight until it's needed.
Another idea is to hang a tension rod between two adjacent walls and add a shower curtain or window curtain. A heavy material will help hide glare and silhouettes for the comfort of your guests. You can tuck the curtain away, when not in use, in the handy drawer on rollers that is located under the cabinet.
If the room layout allows for it, a more permanent option is to install a pocket door or a barn door. While these ideas are a bit more expensive, they are also the most aesthetic.
Put a Space Saving Cabinet Bed Nearly Anywhere
Hopefully this article has given you some new ideas for ways you can add a guest "room" in any home, thanks to the ingenious design of a space saving cabinet bed.