Should You Choose Custom? Pros and Cons
When you are renovating or furnishing your home, you have a choice between buying furniture off the showroom floor or having pieces custom made. When it comes to Murphy wall beds, the same choices are in place – including semi-custom. In this article, we will examine the pros and cons of each option so you can decide: should you choose custom or not?
Pros of Choosing Custom Wall Bed Systems
Ordering a custom wall bed system is a great choice when you are furnishing an oddly shaped room or if you have very specific needs for using the space.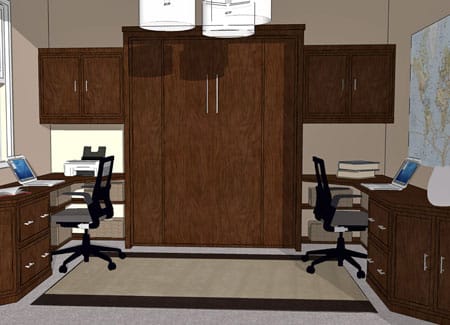 Custom wall beds with matching side piers and cabinetry truly elevate a room from ordinary to extraordinary, making it appear unique. Because Murphy Beds of San Diego can also design millwork that exactly matches the Murphy wall bed you select, your room will look polished and cohesive. The wall bed system becomes part of your home, increasing its value and functionality.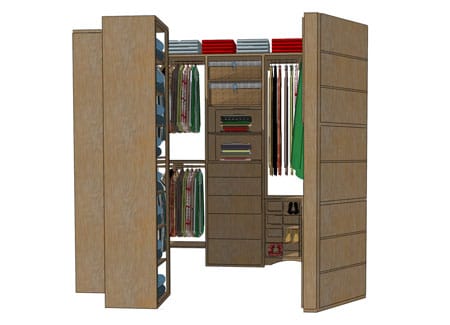 When you have very specific needs for a room, the question of should you choose custom has an easy answer: yes. We have worked with our customers to design spaces with cabinetry made for storing silverware, overflow wardrobes, an ironing board, a pet bed and much more. If you can dream it, we can build it. We call these "U-Design Wall Beds."
Cons of Custom Wall Beds
Obviously, a custom wall bed system is going to take longer to deliver so if your home improvement project has a strict deadline, custom is probably not the way to go. Also, a custom Murphy bed system is going to cost more; be sure to review your budget to determine if there is enough room to install a completely customized wall bed and millwork. Another issue is availability of materials and lead time on getting your custom pieces started as many manufacturing companies are too busy to start new orders.
Pros of Using Stock Murphy Wall Beds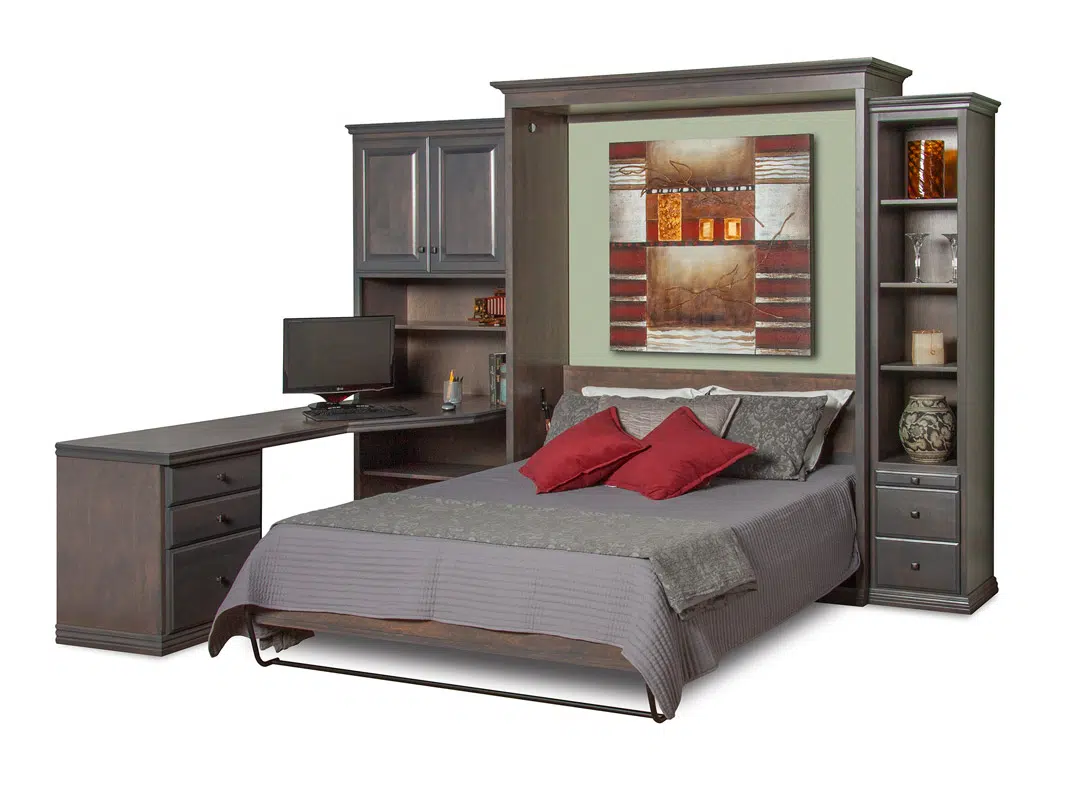 The number one pro of using in-stock wall beds, with or without side piers, is that they are readily available. The only thing that may take a while is setting up delivery and installation. Typically, you can have your space completely transformed with a new wall bed system within a week.
Cons of Buying Stock Wall Beds
Choosing wall beds that are in stock in our warehouse means that you are not able to order made-to-measure furnishings. In a standard sized room, this may not be an issue but when you are dealing with odd shapes and sizes, bespoke furniture is a better choice.
One More Option: Semi-Custom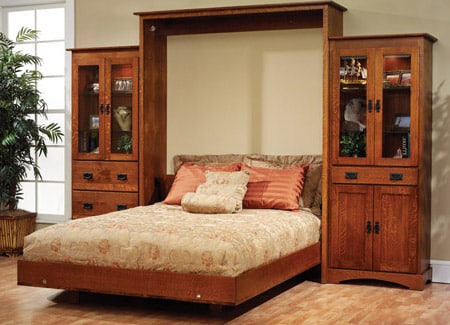 Should you choose custom when you have the option of purchasing semi-custom wall beds? The best choice for you may be selecting an in-stock Murphy bed and adding to it. You can choose to add a desk, sofa, table and/or preconfigured side piers with shelving, cabinets and drawers. You can also select from various finish colors and accessories, such as added lighting and alternate drawer handles to give your wall bed a custom look without a hefty price tag.
Should you choose custom when it comes to Murphy wall bed systems? Ultimately, the choice is yours based on timing, budget, availability, specific wants and how you will use the space.