Solid Hardwood Cabinet Beds – What's Your Style?
You know you could use an extra bed in your home, and one that does double (or more) duty is even better. So when it comes to adding solid hardwood cabinet beds to any room of your home, the only question is, "What style?" Take a look at these popular options and pick one that suits your décor.
Metro Cabinet Bed
If you like a hint of sophistication in your décor plus a guest bed that functions as storage space, too, then the Metro Cabinet Bed is sure to be just your style. It is shown here with an optional wall unit, which makes this piece of furniture extremely versatile. Add this to the amply-sized storage drawer underneath the bed and you've just freed up a lot of space in a room while neatly organizing your things. Another option is to use this cabinet bed to hold a television; it is rated for a TV up to 60 inches.
This solid hardwood cabinet bed is crafted from North America birch. While we love a dark finish on this model, you can select from a dozen different finish colors. Sophisticated yet durable, modern yet reminiscent of Art Deco style, Metro solid hardwood cabinet beds are easy to love in any room.
Country Style Solid Hardwood Cabinet Beds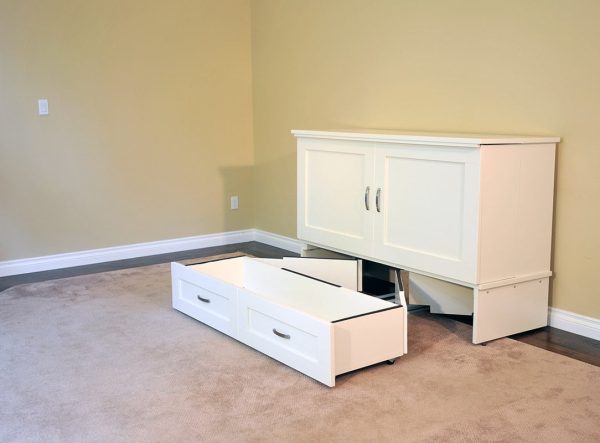 This one is self-explanatory. As you can see from the photo, this cabinet bed has more of a traditional style. It is shown in white, but there are 12 different finish colors from which to choose. There are also two different mattress sizes – full and queen; either one includes a tri-fold CertiPUR-US® premium memory foam mattress for luxurious comfort.
As with all our solid hardwood cabinet beds, there is no particle board or MDF used in the construction of the Country Style cabinet bed. It is rated to hold up to 500 pounds of weight. The roomy bottom drawer can be used for storage while the top of the cabinet easily holds a TV or other items.
This cabinet bed is a great choice for an older home with traditional style. It's also a good option for a girl's bedroom, especially finished in white.
Denva Cabinet Bed
Some homes are furnished in an eclectic style. We also call this "transitional" because it bridges several different styles. If this is the case in your home, then you may want to try the Denva cabinet bed. Its sleek lines and smooth drawer pulls will fit nicely in nearly any room and any type of house.
The Denva also features a large storage area, accessed from the bottom of the cabinet. It is a handsome piece of furniture by day, and becomes a comfortable bed by night in less than 30 seconds. It's so simple, nearly anyone can pull out the mattress and offer a good night's sleep to a guest in no time at all.
When it's not so easy to define your sense of style, Denva solid hardwood cabinet beds are an excellent choice.
Which solid hardwood cabinet beds will you choose for your home?