The More You Know: All About Cabinet Beds Part I
At Murphy Beds of San Diego, we are firm believers that the more you know, the more you will understand the ways you can use a cabinet bed in your home and how it is beneficial for saving space and providing extra storage. In this first part of a two-part series, we offer information all about cabinet beds to answer your most common questions.
How easy is it to install a cabinet bed?
There is a small amount of assembly required when your cabinet bed is delivered to your door. It typically takes about a half an hour to put this piece of furniture together and will go much more smoothly if you have a helper. Luckily, there is no need to attach the cabinet bed to a wall, unlike a Murphy wall bed. A cabinet bed is heavy but can be moved, if necessary and relocated if you switch homes.
What kind of mattress does a cabinet bed have?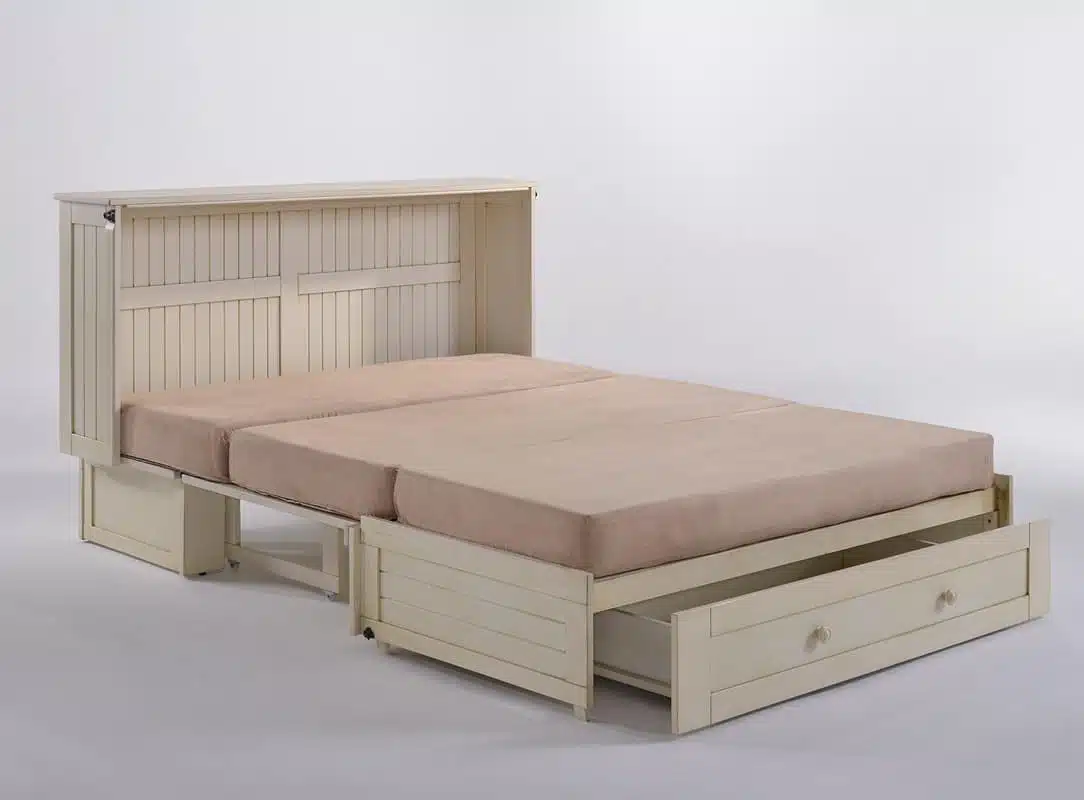 Because of the cabinet bed's design, it uses a trifold mattress. At Murphy Beds of San Diego, we're all about cabinet beds with premium gel memory foam mattresses in queen size. The gel keeps you cooler at night by whisking away body heat. The premium, six-inch mattress is sure to give anyone a great night's sleep due to its superior construction, which is backed by a three-year warranty and features four inches of foam and two inches of gel.
But is it comfortable?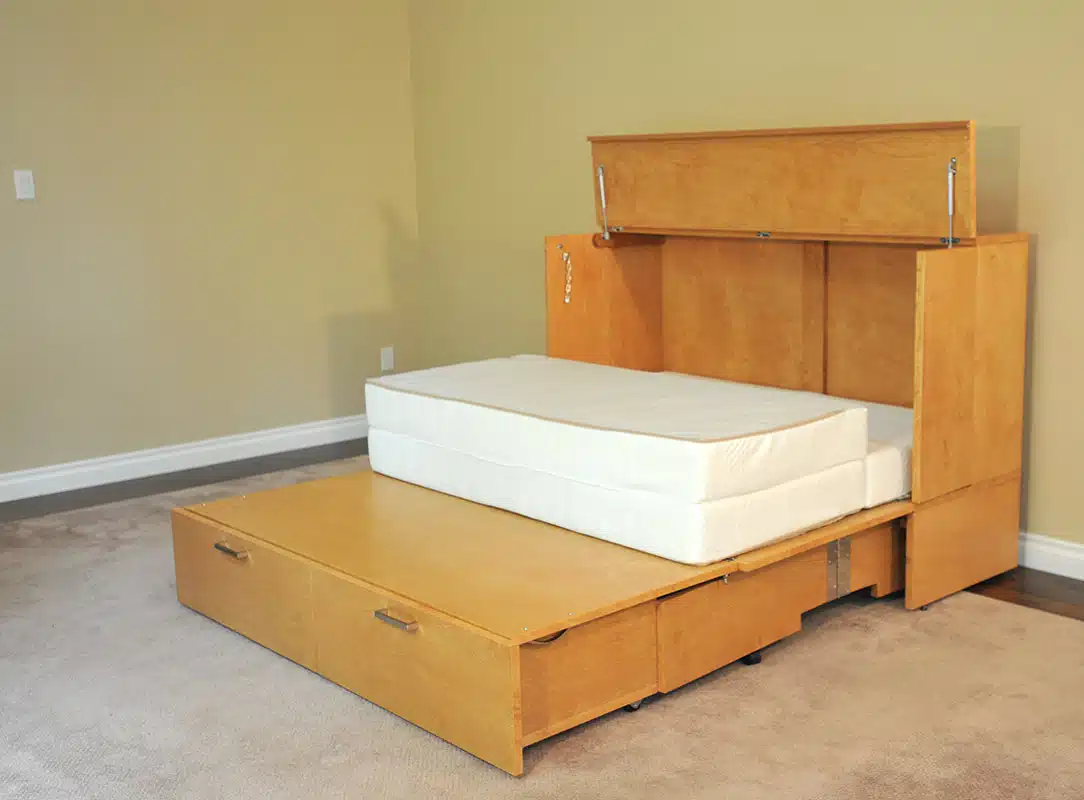 We think that if you have a chance to try sleeping on one of our cabinet beds with trifold mattress, you will see for yourself just how comfortable it is. Unlike a sofa bed, where you might feel the supporting bar in the middle of the mattress, a cabinet bed's trifold design is imperceptible, providing the same level of comfort as a traditional mattress.
What kind of wood are the cabinets made from?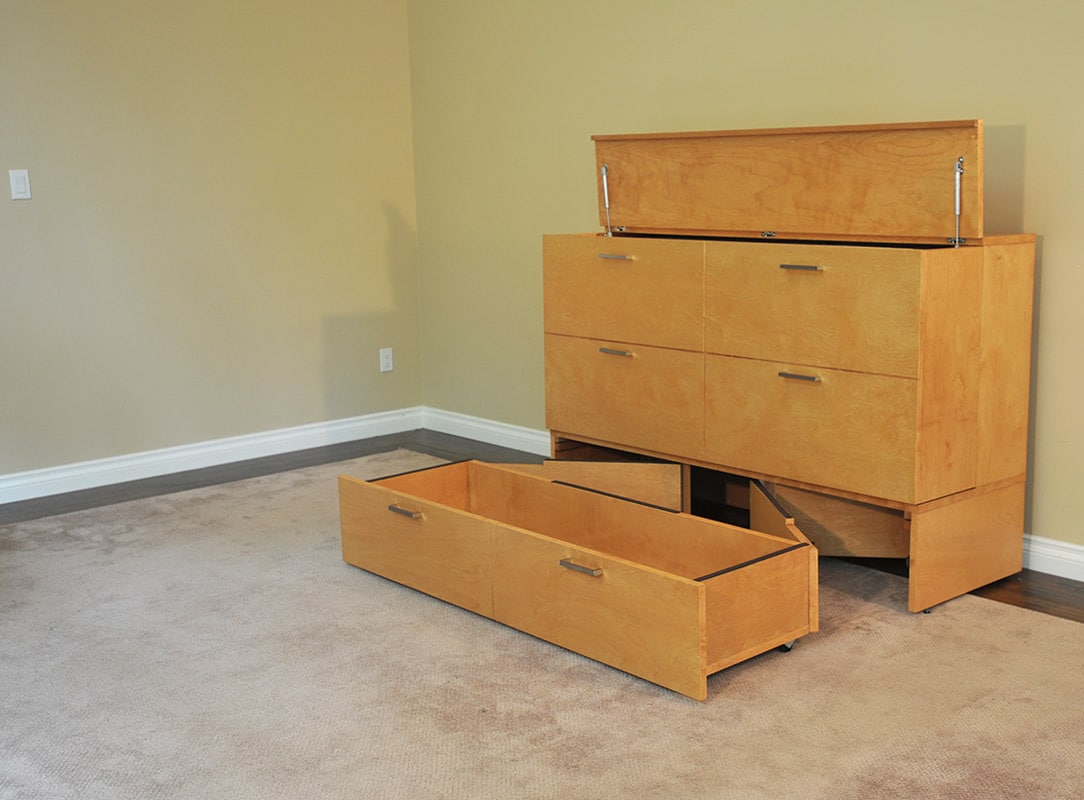 It's all about cabinet beds at Murphy Beds of San Diego made from solid wood and furniture grade plywood, never particleboard. Most of our models are available in three or more wood finish colors to ensure they will match your existing décor.
How much weight can a cabinet bed support?
A high-quality cabinet bed, also known as a Murphy chest bed, can support a sleeper (or two) of up to 500 pounds. Any more weight than that could be detrimental to the integrity of the cabinet.
How much wall space is needed in front of the cabinet?
Cabinet beds can be placed directly against the wall, or they can be freestanding in the middle of a room. But do remember that you will need to clear the area in front of it before pulling the mattress out for sleeping. The cabinet itself takes up about two feet and when the mattress is extended, the entire piece will expand to about 83" in length.
What can I use the top of the cabinet for?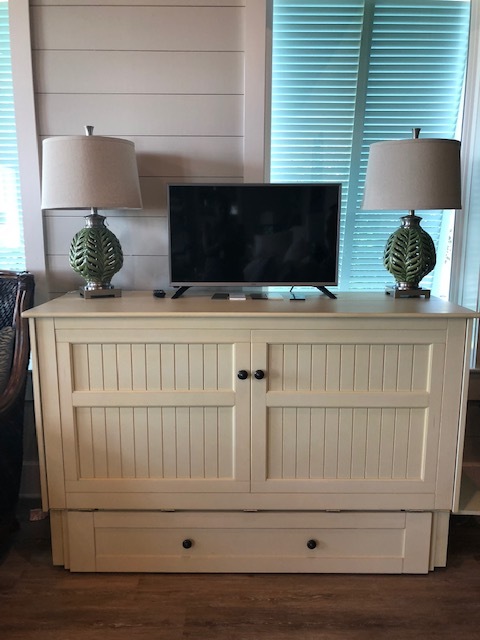 Murphy Beds of San Diego is all about providing high quality cabinet beds where the back panel is stationary. That means it can hold a television with a screen up to 60" or other items, such as pictures, books, a collection of decorative pieces, etc. The Cube Murphy Cabinet Bed is the only model we sell that does not have a stationary back panel and thus wouldn't be able to hold any object permanently as it would need to be removed before setting the bed up for sleep.
We hope you learned something new in this post all about cabinet beds. Stay tuned for the second installment of this short article series, coming soon.