More to Know About Cabinet Beds Part II
While many consumers are familiar with Murphy beds, not everyone has heard of their lesser-known cousin, the cabinet bed. Just as handy and taking up less space than a wall bed, you may have questions about these unique furnishings. That's why we bring you the second installment in our short series covering more to know about cabinet beds.
Do cabinet beds need to be placed against a wall?
No. Unlike Murphy beds, which must be securely attached to a wall for safety, cabinet beds are freestanding pieces of furniture that can sit in the middle of the room, if you desire. In fact, you may be interested in reading an article we posted about using a cabinet bed as a room divider.
How hard is it to assemble a cabinet bed?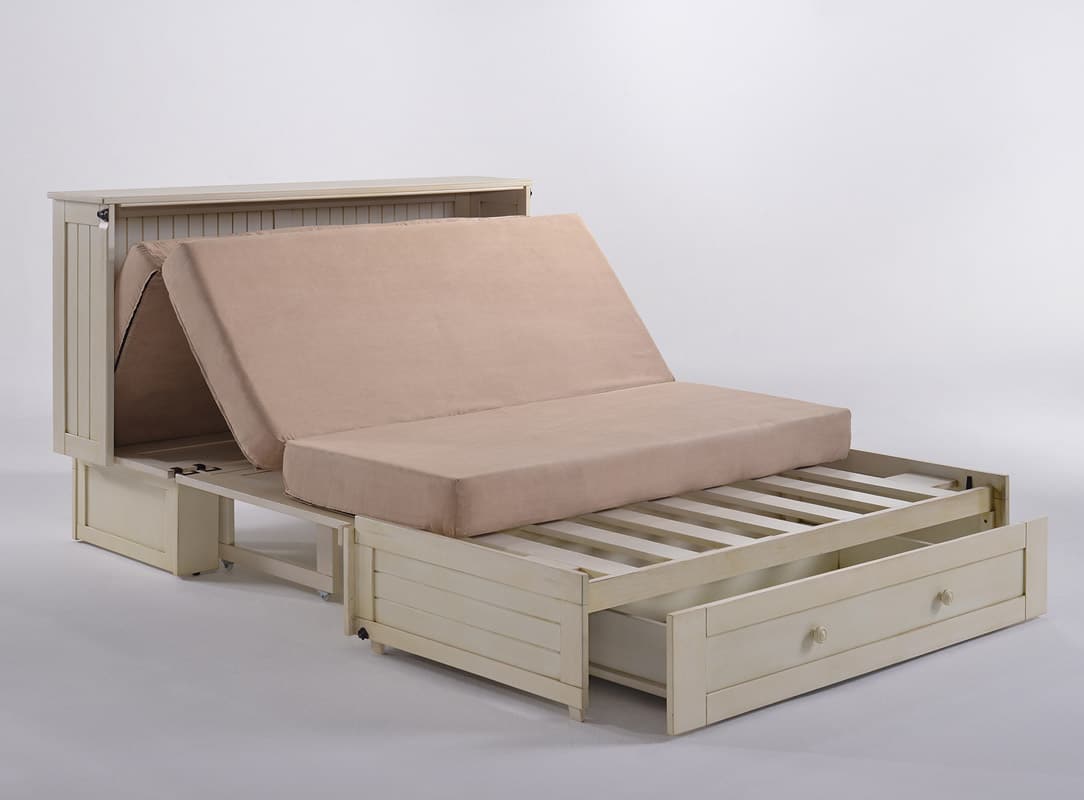 Cabinet beds are very easy to install and some of them only require a single person to assemble, such as the Cube bed. For other models, such as the Clover, Daisy and Sagebrush, a second person makes it easier to get your cabinet bed put together and ready for use. Cabinet beds arrive at your home in one or two boxes that accommodate the frame and the mattress.
How about the mattress? Is it comfortable?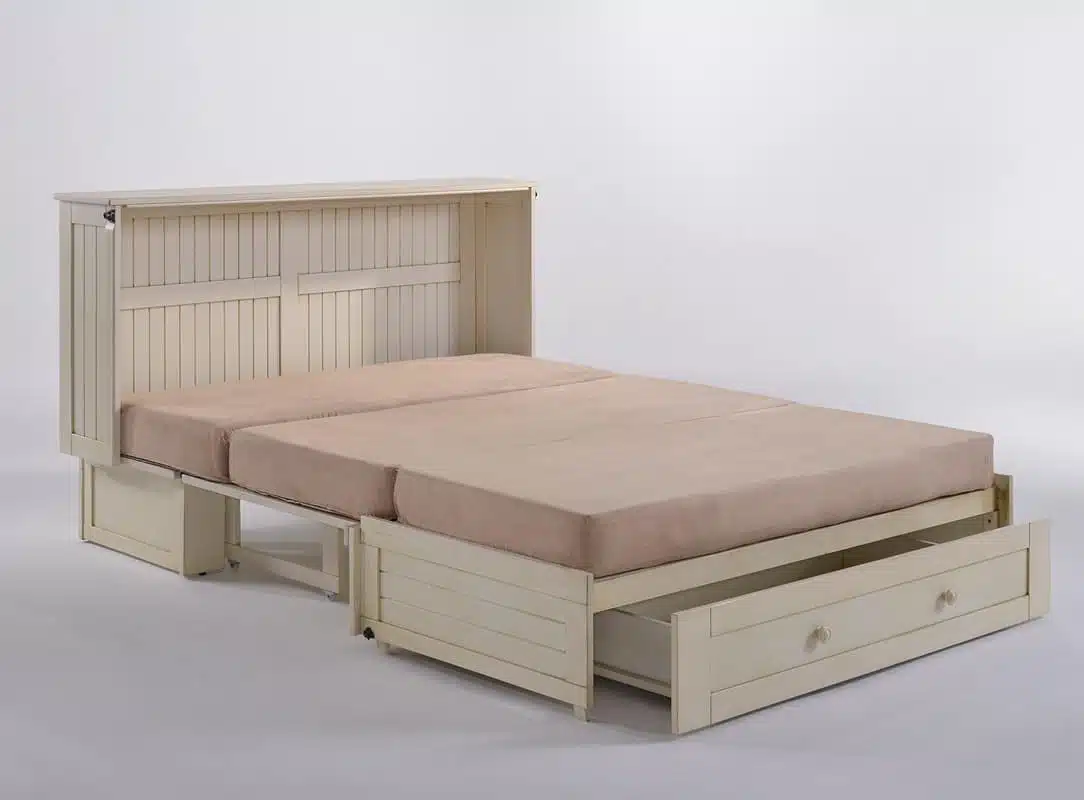 All our cabinet beds come with a premium, trifold mattress constructed from comfortable memory foam and gel that perfectly fits into the cabinet housing it. They are queen sized mattresses which take standard sheet sets; they can be left on when folding the mattress back into the cabinet. While you can always use your own trifold mattress, we recommend going with the manufacturer's own model due to its superior fit and support.
What about storage?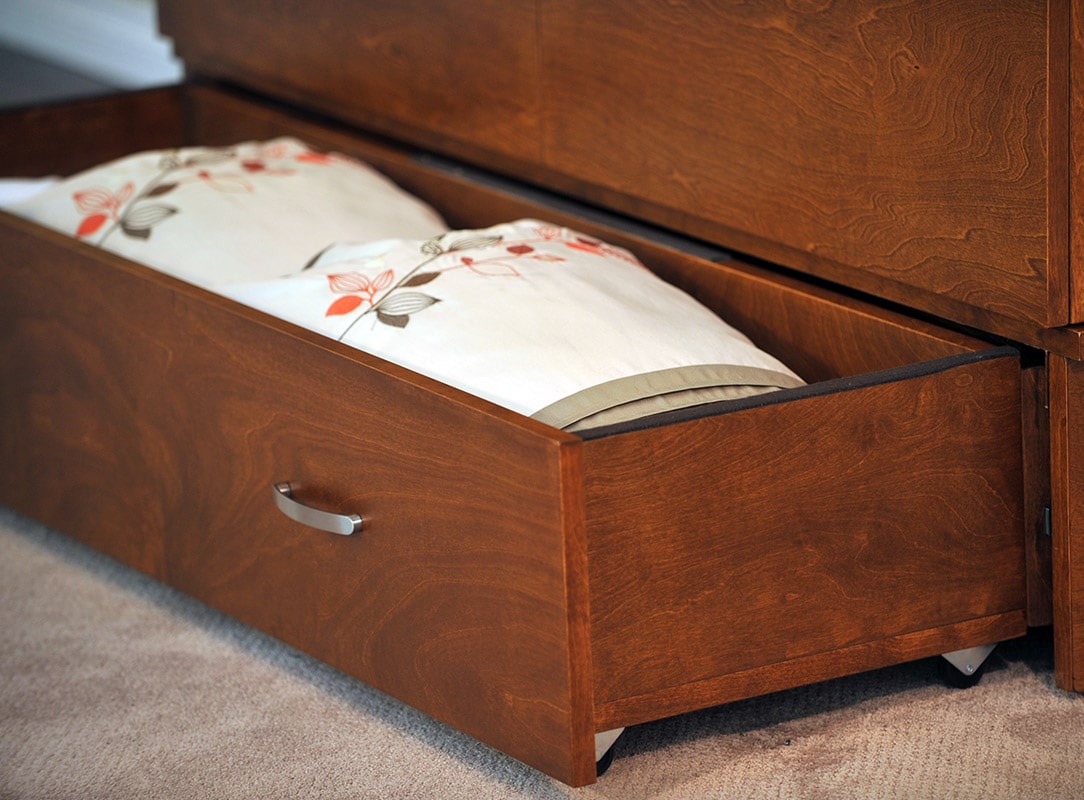 With more to know about cabinet beds, you will be pleased to find out that all our models (except for the Cube) come with a large storage drawer located along the bottom of the cabinet. The drawer has rollers along the bottom that make it easy to access and glide over any surface, even carpet. It is sturdy and can hold many different items, such as linens, books, clothes and more.
Are there any special features?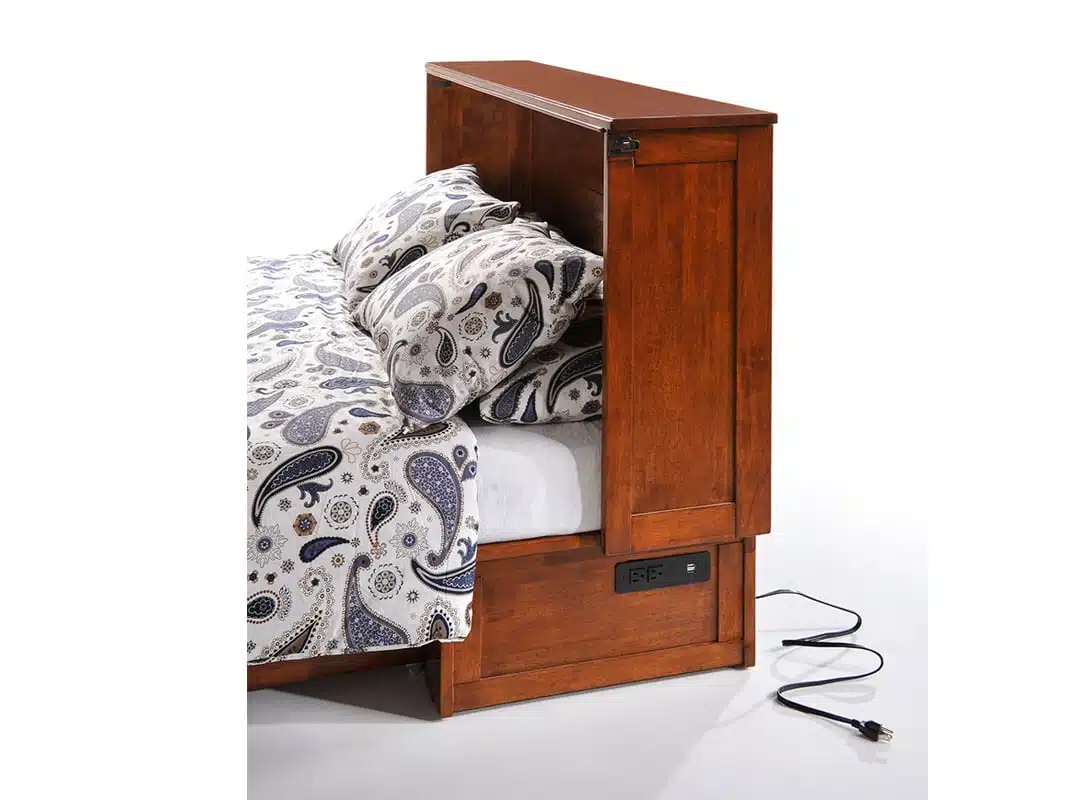 Yes! With more to know about cabinet beds being revealed, you will find that many of our models, such as the Clover, Daisy and Sagebrush, all come equipped with dual USB and power outlets along the front of the cabinet, beneath a handy little pull out drawer. This makes it easy to charge a phone or other electronic device, even if the cabinet bed is placed in front of an electrical outlet. You could also plug a nightlight into the outlet, particularly useful when you have overnight guests.
Another special feature to know about cabinet beds is that they come with two sets of drawer pulls, allowing you to subtly change the look.
Finally, each cabinet bed is available in a variety of finishes, from traditional wood to glossy white to deep tones. There is sure to be a finish color that perfectly goes with the rest of your décor.
We hope that the more to know about cabinet beds, the better you will understand how functional and attractive these space-saving furnishings can be.