What Do Your Guests Think of a Queen Cabinet Bed?
Many customers who are considering adding a queen cabinet bed to their guestroom or extra room are concerned about one thing: comfort. Luckily, there is no need to sacrifice comfort for the many useful features of a cabinet bed. We surveyed some of our customers to find out what their guests think of a queen cabinet bed after spending several nights in one. Here is what they said.
Space Saving Convenience
You know that your guestroom is only used a small percentage of the year. But guess what – your guests realize this, too, and enjoy helping you take back your space. Since a cabinet bed uses only a fraction of the square footage that a traditional bed does, it is an ideal solution for creating more space in your home. And traditional beds are just inconvenient, making it difficult to maneuver around – for your guests, too – and have enough room to enjoy your favorite, exercise, activities and hobbies. Your guests still have plenty of privacy and you get to use the room year-round for whatever purpose most suits your needs.
Heard from a guest: "The room looks so neat."
Murphy Beds are Great but Big
Another way to recapture space in your guestroom is to install a Murphy wall bed. Unfortunately, there a few drawbacks to wall beds, such as the amount of square footage needed, the necessity of permanent installation and the required amount of wall space.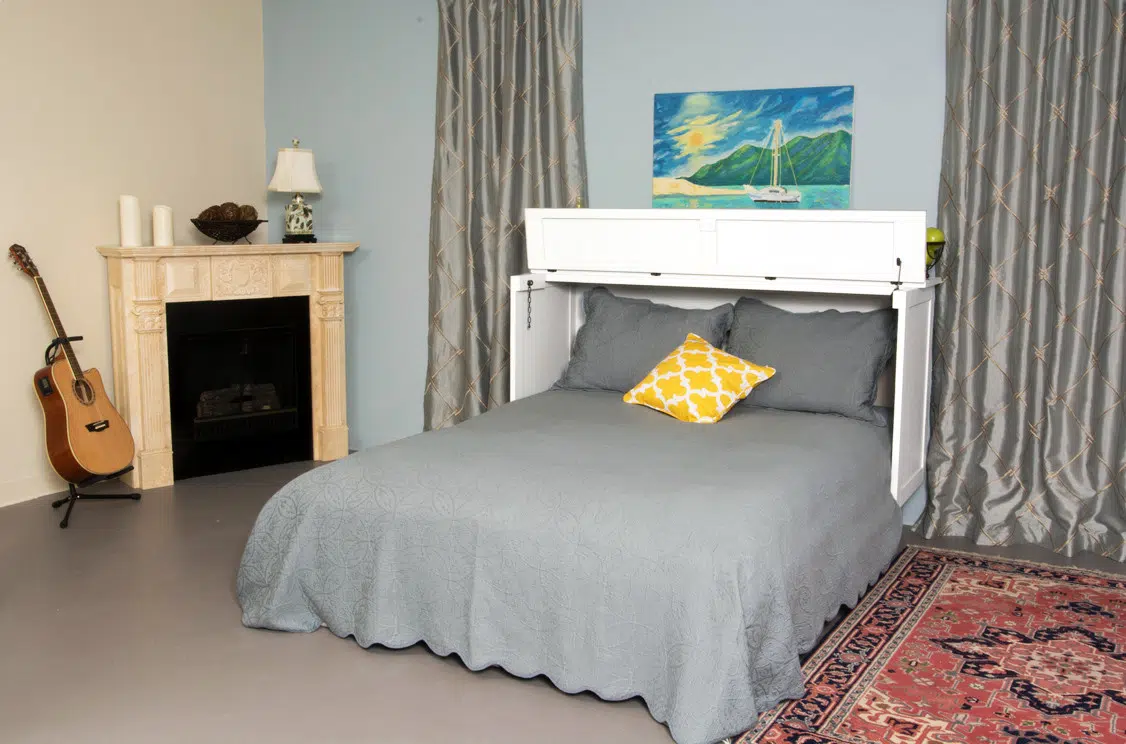 For a smaller footprint in a guest bed that will fit nearly anywhere (closet? end of the hallway? kid's room?), a queen cabinet bed is an ideal choice. No matter where you put it, your guests should always be afforded a bit of privacy but no doubt they will not mind sleeping on the comfortable mattress that is included with your purchase.
Comfort is King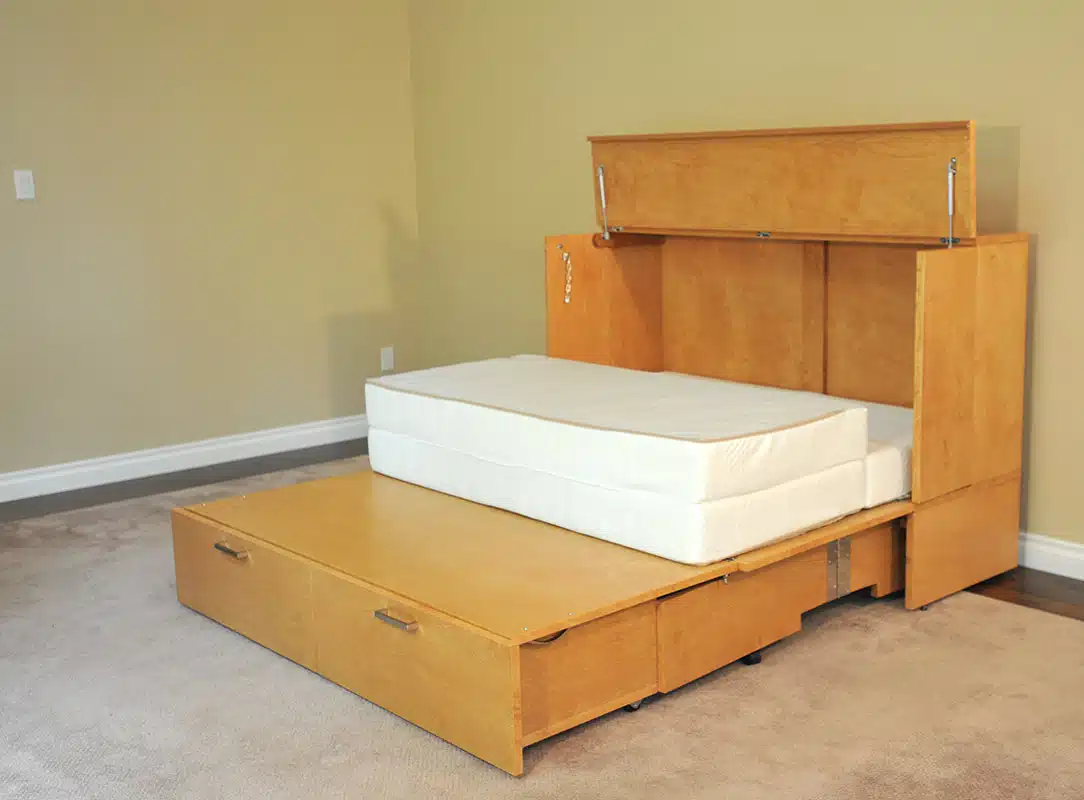 Most of our cabinet beds come with your choice of mattress, from the base model on up to a deluxe mattress. All feature premium, tri-fold cooling gel memory foam mattresses. Many are available in your choice of full or queen size mattress. Find the cabinet bed you like, then review the checkout options to find out what mattress sizes and styles are available.
We heard from several of our customers that their guests raved about the comfort of their cabinet bed: "So much more comfortable than a sleeper sofa!"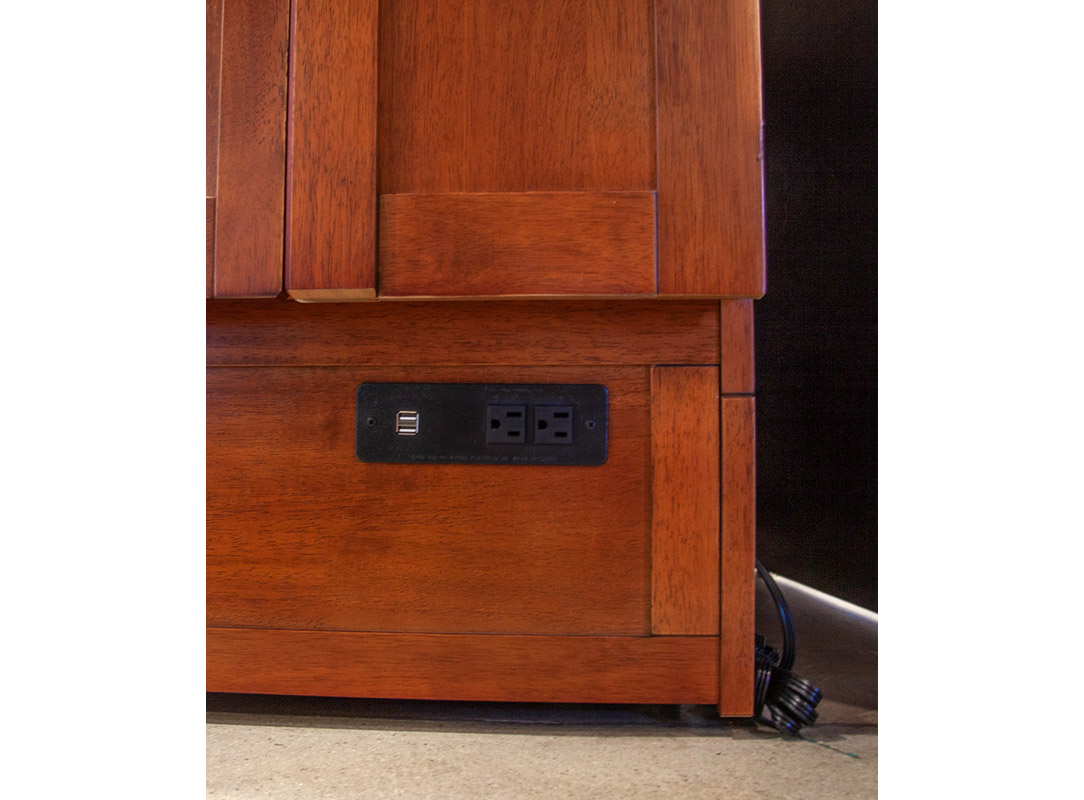 Guests also enjoy the convenience of having a USB port and a pair of electrical outlets below a small pull-out tray table along the front edge of the base cabinet. They can easily check their phones for messages and recharge electronic devices while laying back in the comfort of a queen cabinet bed.
A Queen Cabinet Bed is Super Easy to Setup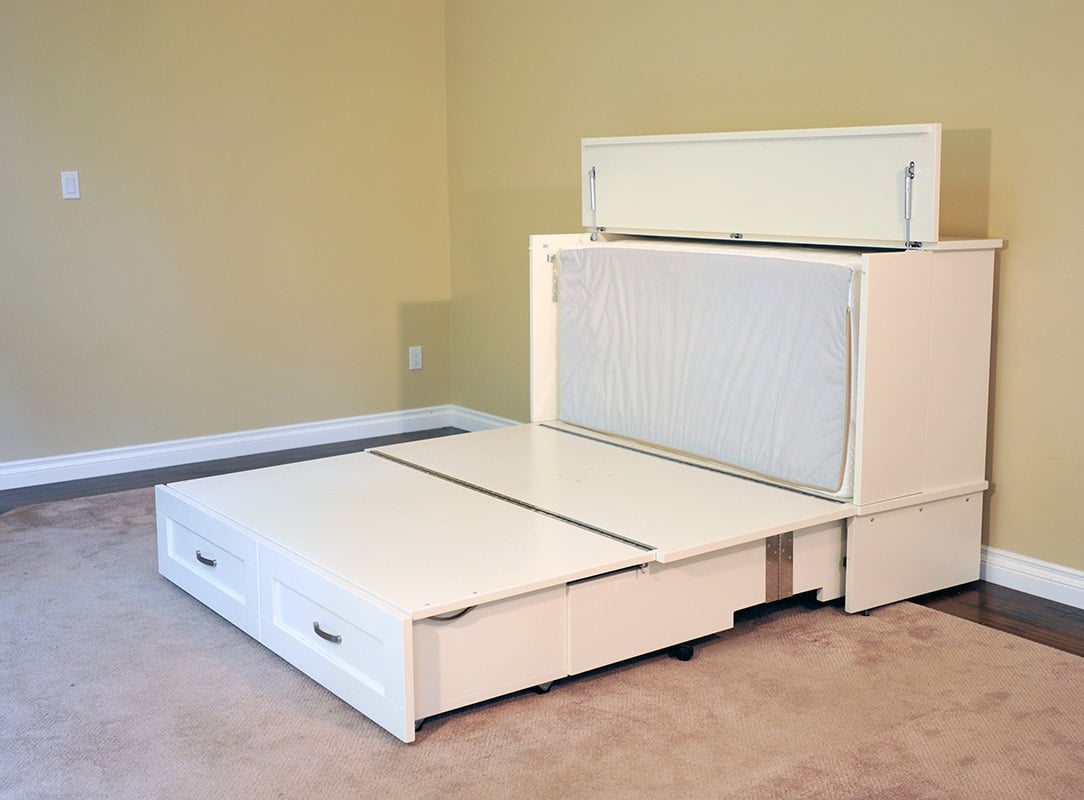 When your guests are ready to hit the hay, it is a very simple and quick process to pull out the mattress.
To open it up just follow these easy steps:
Flip open top panel
Pull out lower drawer and front section of cabinet
Flip up support feet
Fold down that section
Pull out the mattress
Guests are usually quite impressed by this simple procedure. From one of our customers: "I couldn't believe how quickly the cabinet was flipped into a bed."
If you have been putting off buying a queen cabinet bed for your guestroom, we hope this article will reassure you that your guests will be comfortable and happy staying the night in any of our high-quality cabinet beds.